The humble Pritt Stick is a staple of any child's art box. Perfect for glueing paper, sequins and more, the Pritt Stick allows children to get crafty.
But, if you're a girl with a love for crafts, you'll need a pink Pritt Stick...apparently.
The popular glue brand have launched a new stick - it's pink, flowery and supposedly "Just 4 Girls".
Oh for god's sake. It's glue. Glue. pic.twitter.com/hnNkqOKRVl

— Rosie Fiore (@rosiefiore) March 21, 2014
Gender specific products have been criticised as imposing stereotypical concepts of gender on the consumer, yet marketers still seem to think that pink + product = sale.
Groups such as Let Toys Be Toys campaign to end gender specific products, especially those used by children. Their most recent campaign Let Books Be Books calls for publishers to stop limiting children by labeling literature "for girls" or "for boys" by covering classics in pink or blue.
It's not just the kiddie products that are subject to everyday sexism. Pen makers Bic came under criticism in 2012 for their pink biros that were, you guessed it, "for her".
Bics "for her" pen was blasted by Amazon reviewers, with comments ranging from the sarcastic to the downright angry. The Huffington Post UK's Comedy Editor Andrea Mann joined in, saying: "Presumably, it's intended for writing shopping lists, chick lit novels and your signature with a heart instead of an 'i' dot, and unable to work in high-powered business meetings. Geddit?!"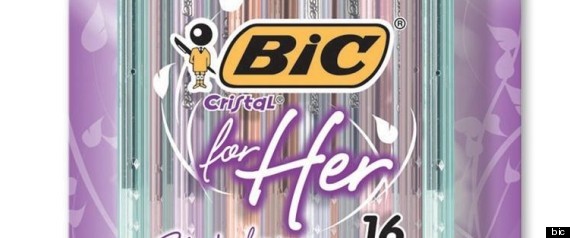 A 6-year-old wrote to Hasbro complaining that there were more male characters than female on Guess Who? and quickly became HuffPost UK Lifestyle's feminist hero. Then McKenna Pope, 13, started an online petition complaining that the gender-specific packaging on Hasbro's Easy Bake Oven excluded her 4-year-old brother who dreams of being a chef.
Children don't want gender specific products, and neither do we. When will manufactures start listening?