England's home and away World Cup kits have been revealed by Nike 73 days before the Brazil finals.
It was confirmed earlier this month the Three Lions would don an all-white strip for a second successive major tournament, following their one-colour ensemble at the European Championship two years ago.
England have played eight of their World Cup matches in an all-white strip, with the most recent coming in the soporific goalless draw with Algeria in 2010.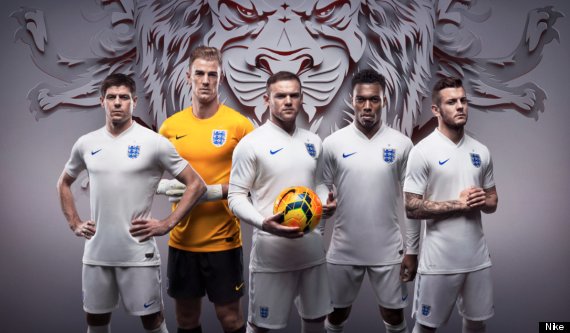 Steven Gerrard, Joe Hart, Wayne Rooney, Daniel Sturridge and Jack Wilshere model the new kit
And England will again be kitted out in their traditional red away replica for a World Cup, having donned a navy blue strip against Sweden at Euro 2012.
Steven Gerrard, Joe Hart, Wayne Rooney, Daniel Sturridge, Jack Wilshere, Ross Barkley, Alex Oxlade-Chamberlain and Raheem Sterling modelled the new kits, which could prove to be embarrassing for the injured Wilshere, whose fitness and form could deny him a World Cup squad berth.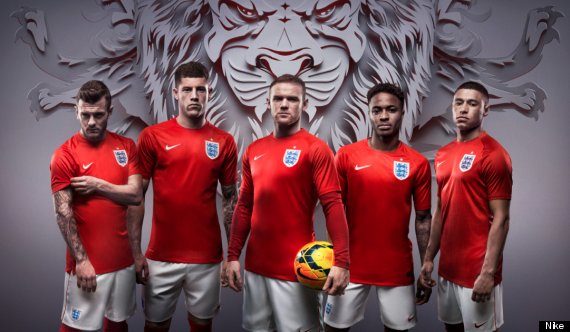 Wilshere, Ross Barkley, Rooney, Raheem Sterling and Alex Oxlade-Chamberlain model the away kit
The new white shirt sports an old-school V-neck, while the red away kit has been designed with a round neck, rather than the collar Nike provided England with for their debut away effort last year.
Both efforts are improvements on Nike's maiden efforts , in which the home garb was likened to West Germany's 1974 strip.
Nike became England's new kit supplier last year, ending the Football Association's 30-year partnership with Umbro, who are owned by Nike.
Umbro almost exclusively tailored England's kits until the Nike deal, with the exception of Admiral's revered eight-year stretch between 1974 and 1982.