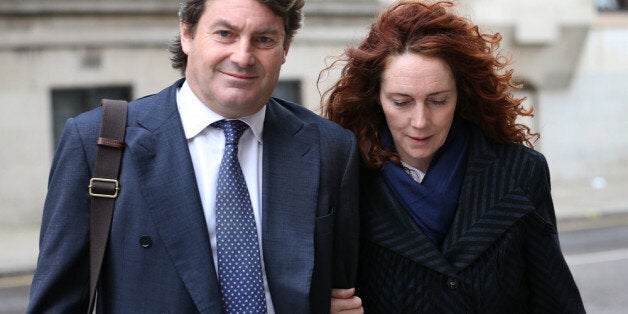 The husband of former News International boss Rebekah Brooks hid his stash of pornography because he did not want police leaking embarrassing details of the "smut" to the press, the phone hacking trial has heard.
Racehorse trainer and writer Charlie Brooks said he didn't want a "Jacqui Smith moment" - where the former Labour Home Secretary became embroiled in a row after it emerged her husband submitted an expenses claim for watching pornography.
Brooks, his wife Rebekah and head of security Mark Hanna deny conspiracy to pervert the course of justice between July 5 and 19 2011 as the phone hacking investigation resulted in the closure of the News of the World.
He told the Old Bailey he "incredibly stupidly" decided to hide a bag containing explicit DVDs and a case with his Sony laptop in.
Continuing with his evidence from the witness stand, Brooks said he had hidden the cargo behind the bins of an underground car park at the couple's flat in Thames Quay, west London.
Asked by his counsel Neil Saunders why Brooks acted in this way, the witness said: "The DVDs are of an embarrassing nature.
"On the Sony Vaio, the main reason was it (the laptop) had some important book ideas that weren't backed up anywhere else, but it also had a bit of smut on it.
"When I got back to the flat, I envisaged 20 policemen coming in and emptying every drawer and looking under every nook and cranny.
"I did think about my DVDs and I had my Jacqui Smith moment - a Home Secretary who was implicated by her husband's porn.
"I didn't want the same thing to happen to Rebekah."
The incident happened while his wife was being interviewed by police in Lewisham. The court heard Rebekah Brooks had described her arrest that day as police making "a PR point".
Her husband went back to retrieve the bags later but they had gone, having been picked up by a caretaker and handed to police when the bins were emptied.
Brooks told the court his motive to hide the belongings was the result of an "instinctive reaction" that police could "leak this sort of material (the pornography discovery) to the press".
He told the court: "Ever since Operation Weeting (the phone hacking investigation) had been at the buildings at News International, a lot of stuff had been leaked, particularly to the Guardian.
"A lot of stuff had been leaked and I was very aware of that."
He said: "Incredibly stupidly and rashly, I thought I would just put these to one side. They (police) wouldn't take it away and I wouldn't lose my material."