Customers are calling for a boycott of a Lebanese restaurant after the owner placed a giant photograph of former Iraqi dictator Saddam Hussein in the window.
Ayyad Al-Hamdan has refused to remove the portrait from the window of the This Is It eaterie in Harrow, despite requests from council chiefs and the police, explaining it is a political protest against the current government Kuwait.
Saddam led the Iraqi invasion of Kuwait in 1990, prompting the United States to lead 34 coalition forces in the Gulf War.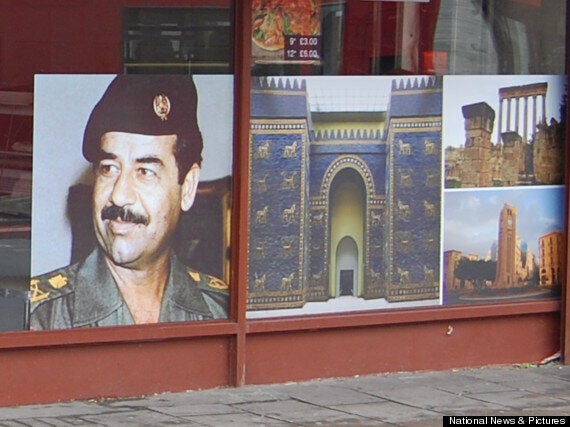 This Is It is a Lebanese restaurant located in Harrow, north west London
He said: "Go Back to 1990. The British soldiers when they tried to kick Saddam from Kuwait, think about how many soldiers they lost there, how many went mad. Now we in Kuwait need help again.
"The British and Americans said that Saddam was a dictator and they removed him to give freedom for the people of Iraq.
"But now we in Kuwait are dying slowly. No one cares about them because the British government has a good relationship with the Kuwait government."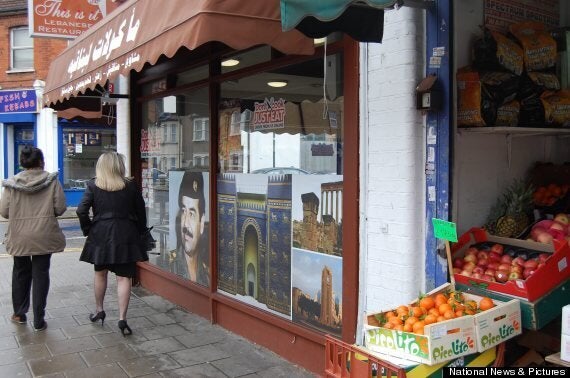 Owner Ayyad Al-Hamdan has refused to remove the poster, which cost £60
Drapere:"Nothing, not even good food, can persuade me or anyone I know to eat there in such circumstances. I urge all right-thinking people to boycott this place until the offending poster is removed."

Nabil S:"The food was horrid, but what made it even worse was he had a picture of Saddam Hussain in the window - what a sign of disrespect. In my eyes there is no difference between Saddam and Hitler: both dictators, both committed genocides."

rosa_naghav:"I had previously visited the restaurant and was pleased with the service till I went there the other day. I decided to take my Kurdish friends for a meal and was utterly disgusted. We walked past and we just decided to turn back around.They had a large poster of Saddam Hussein on the wall. He did not personally destroy my family, however, my friend lost several family members under Saddam's rule. We made a complaint to them and they were very unapologetic.I cannot understand how they could bring politics into an eating facility."

Hellenaa88:"Not only does it offend the thousands of Kurds in the area, it is a sign of great disrespect to the many Kurds remembering the sadness that took place 26 years ago in Halabja where Kurds were gassed with chemical weapons at the hands of this tyrant. I hope this restaurant closes down."
Al-Hamdan confirmed to HuffPost UK the picture was still up on Monday but refused to discuss whether the move was affecting his business.
Harrow Council leader Susan Hall has also asked for it to be removed. She said Al-Hamdan was "polite but defiant" and said it was not a council issue and it was his freedom to display the picture.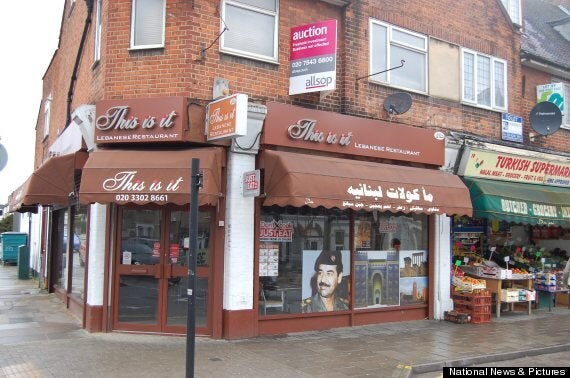 Al-Hamdan says the poster is a political protest against the current government in Kuwait
Cllr Hall said: "We have had several members of the public complain and ask what the council can do about it.
"The short answer is we are limited in what we can do. The police have also, we understand, been to the restaurant but the owner gave them the same response.
"The council is currently considering whether there are any options it could look at, for example whether this picture constitutes a potential breach of the peace – but again that is more a police matter."
She added: "I am all for free speech but the relatives of British service people killed or injured fighting in Iraq might not see it that way.
"Harrow has a multi-ethnic population and to allow this picture to remain in the restaurant window could give offence to many, and could prove a licence for agitators to provoke trouble.
"Public images of dictators be it Saddam Hussein, Hitler, or the leader of North Korea for that matter have no place in Harrow. This is a restaurant promotion that leaves a nasty taste in my mouth."
Though Al-Hamdan, 43, admits angry passers-bys have stormed the restaurant and hurled abuse at him and that he risked offending the families of British soldiers killed in the war, he has vowed to fight all efforts to remove the image
The asylum seeker who came to Britain in 1997 added: "If people are upset about it then they can come and speak to me."