Emotional relatives of the 96 football fans killed in the Hillsborough disaster have arrived for the start of the long-fought-for fresh inquests into their loved ones' deaths.
Vice-chairwoman of the Hillsborough Family Support Group Jenni Hicks said there had been "lots of tears" over the weekend, but she was ready for the start of the hearing on Monday.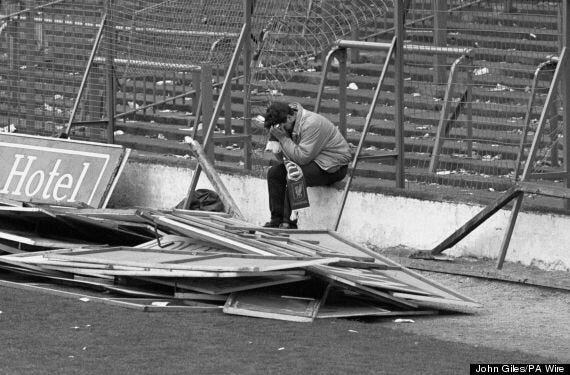 Hillsborough is Britain's worst sporting disaster
She said: "It's been a long time coming. I've had an emotional weekend."
Most of the day is expected to be taken up with jury selection for the hearing, taking place on the outskirts of Warrington, Cheshire, which is expected to last for several months.
Charlotte Hennessy, who lost her father James Robert Hennessy in the disaster when she was six years old, said: "It's finally here. I don't know if excited is the right word to use, but finally we're here and it's going to happen.
"I'm really, really nervous. It's been a long, long fight.
"Hopefully, this is the beginning of the end.
"I was a bit of a emotional wreck this weekend, I've not slept a wink.
"But this is the beginning now, hopefully it can be put right."
There will be opening statements from the coroner and the families this week, with background "pen portraits'' of all the victims being presented to the court over the next month.
Later in the hearing the jurors will make a site visit to Sheffield's Hillsborough stadium but will be directed not to read the "deeply moving'' tributes on the memorial to the tragedy.
Britain's worst sporting disaster happened on 15 April 1989 during Liverpool's FA Cup semi-final against Nottingham Forest as thousands of fans were crushed on the ground's Leppings Lane terrace.
Verdicts of accidental death from the original Hillsborough inquest in March 1991 were quashed in December 2012, after the Hillsborough Independent Panel delivered its final report on the disaster earlier that year.
It was decided that the inquests would be held in Warrington after a split emerged between two separate campaign groups earlier this year, with one side pushing for the inquiry to be held in London and the other calling for it to take place in the North West.
Some 71 families from the Hillsborough Family Support Group (HFSG) wanted the hearing to be held in the capital, while a smaller group from the Hillsborough Justice Campaign (HJC) asked for it to take place in the North West, outside Liverpool or Manchester.