UPDATE The Force Is Not With Him: Darth Vader Rejected In Ukraine Presidency Bid (PICTURES)
The leader of the Ukrainian Internet Party (UIP) is running in the country's presidential campaign – in the guise of Sith Lord Darth Vader.
'Vader' won the primaries of the UIP, his group said in a statement and was officially proposed for the candidacy on Saturday.
He told Russia's RT News: "I am prepared to take responsibility for the fate of this country, if fellow citizens do me this high honour.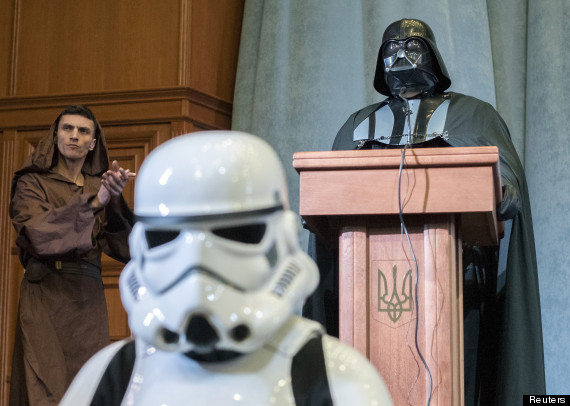 The Ukrainian Internet Party leader Darth Vader addresses a party congress in Kiev on Saturday
"I alone can make an empire out of a republic, to restore former glory, to return lost territories and pride for this country."
Ukraine's presidential elections will take place on 25 May.
Vader and other activists also dressed as Star Wars characters including Stormtroopers, have previously made appearances on the Ukrainian political scene.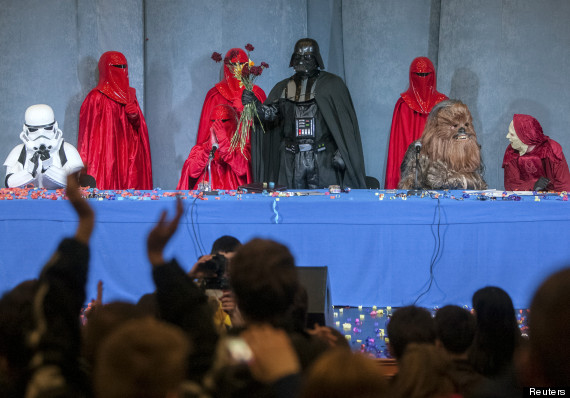 The UIP was registered as an official political party in 2010
In December 2012 they distributed canned foods, matches, condoms, toilet paper, soap, lightbulbs and 'tickets' for their spacecraft evacuation scheduled for the supposed end of the world – 21 December.
Vader also made a bid to become mayor of Odessa late last year – after being carried into the city hall by Stormtroopers.
And the Guardian cites local media reports claiming he has also demanded a plot of land to park his spaceship.
The UIP was registered as an official political party in 2010 and aims to create an electronic government in Ukraine, facilitate the transition to digital media and offer free computer course to all citizens.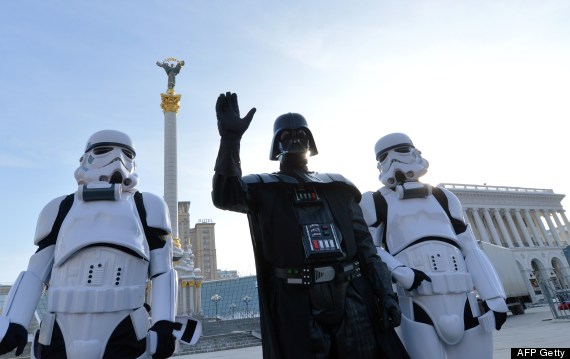 Vader flanked by Stormtroopers in Kiev in 2012