Manchester United were denied a memorable Champions League win by Bayern Munich midfielder Bastian Schweinsteiger, who was sent off late on following his equaliser.
United captain Nemanja Vidić nodded the Premier League champions ahead before Schweinsteiger's sweet leveller. Here are five talking points from Old Trafford...
UNITED HAVE ENOUGH TO CAUSE AN UPSET
For a team who had lost two of their last four home matches 3-0 and treated the ball like a hot potato against Pep Guardiola's passing carousel, this was a fine result for Manchester United. Gutsy, spirited and resolute, they defended with an ease that has been lacking in their rearguard this campaign and competition winner Alexander Büttner performed doggedly. A set-piece was always likely to be their best chance of a goal, and Nemanja Vidić adroitly finished Wayne Rooney's cross to unsettle an at times tetchy Bayern Munich.
Guardiola's defence looked disconcerted by Danny Welbeck's pace and their full-backs' adventurous afforded Antonio Valencia, in particular, acres of room. With Bastian Schweinsteiger and Javier Martínez suspended for the return leg, Guardiola will have to retain the calamitous Jerome Boateng, while the returning Patrice Evra will offer United another attacking outlet. Supporters feared an annihilation, yet United did not even have to elevate themselves to a heroic level to hold Europe's best side.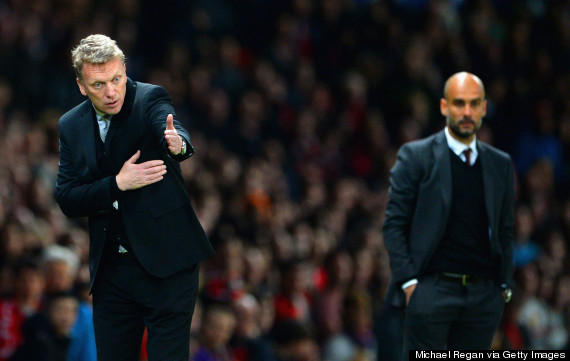 Moyes enjoyed one of his better nights at Old Trafford
MOYES DESERVES CREDIT
There were some obvious qualms amongst United supporters over the starting XI. It was April Fools' Day, but Büttner up against Arjen Robben seemed tragicomic, Shinji Kagawa was unfairly overlooked and the Rio Ferdinand-Nemanja Vidić defensive axis is more pertinently remembered for their horror show at Olympiakos, rather than their past glories.
United ceded possession cheaply, were unashamedly pragmatic and reminiscent of a certain Scot's direct Everton side, yet with such limited options David Moyes prompted a determined response from footballers playing for their future at the club and others desperate not to end their Old Trafford career on a bum note. United had not defended this well all season, even if they were aided by Bayern's one-dimensional football, and the only risk now is that they be lulled into a false sense of security.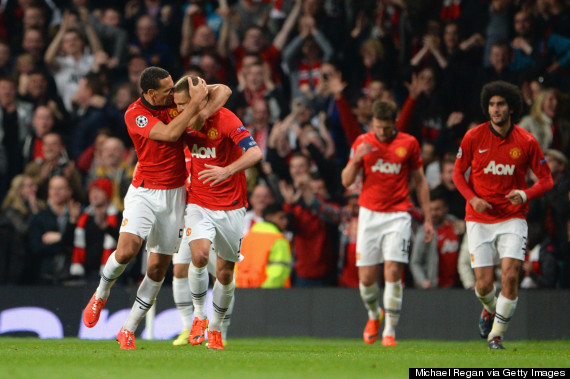 Nemanja Vidić produced his finest performance of the season so far
HERNÁNDEZ COULD GET NOD OVER WELBECK IN MUNICH
This was a performance which perhaps best summarised Danny Welbeck's Manchester United career. Gamely and troublesome, he still flustered in front of goal and did not induce any confidence when he bore down on Manuel Neuer for that one-on-one at 0-0. His attempted dink - a frivolous choice in front of a 6ft 4in goalkeeper - was terribly miscued.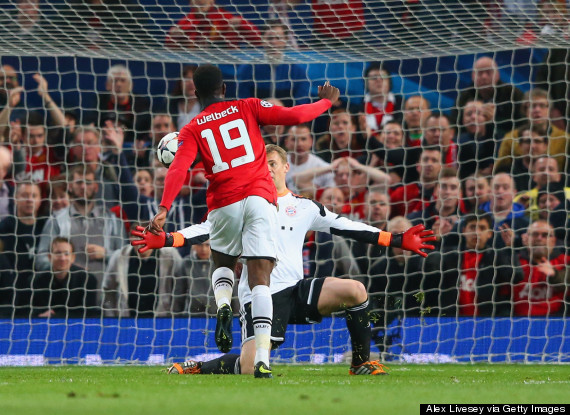 Welbeck finished a presentable one-on-one terribly
Welbeck has scored 10 United goals this campaign and some, such as his lob at Swansea, the intelligent run against Tottenham and the quick-footed shift at West Brom, stand out as marvellous finishes. However, he still struggles to convince when deputising for someone as lethal as Robin van Persie and at the age of 23 should be disappointed he has not honed his end product sharply enough. Javier Hernández offers next-to-nothing defensively, but his predatory instinct could be critical in Munich next week.
DOUBLE-STANDARDS?
Bastian Schweinsteiger and Pep Guardiola arguably had a point about Wayne Rooney's exaggerated tumble after the midfielder's tackle, yet the German midfielder's reckless slide warranted a second yellow card. Guardiola is more justified to feel aggrieved by Antonio Valencia's let-off when he collided into Jerome Boateng, though. Referee Carlos Velasco Carballo gestured it was a coming together, but Boateng had reached the ball first and once Valencia had collided into him it merited a yellow card. The foul was committed in the 78th minute, which would have tightened Bayern's grip on the game.
BAYERN BORE?
If there is one drawback of Pep Guardiola's teams it is their monotony. Franz Beckenbauer complained after Bayern's draw with Arsenal they were "unwatchable", and for all their world-class individuals they can be as monotonous - and vulnerable - as Barcelona.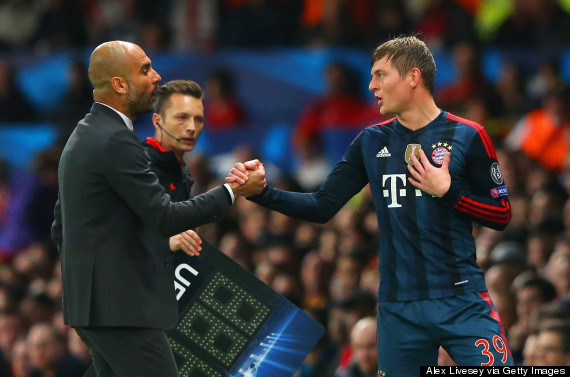 Toni Kroos was sacrificed as Guardiola tried to sharpen Bayern's attack
United's poor ball retention and non-existent pressing - symptoms of Sir Alex Ferguson's pragmatism in his latter coaching years - should have been punished remorselessly. Instead, Bayern seemed so averse to shooting from distance they might be fined by Guardiola, while the decision to field an auxiliary striker in Thomas Müller deprived them of incision, although Mario Mandžukić is rarely deployed as a traditional forward. Unsurprisingly, it was the Croat's introduction which caused Schweinsteiger's equaliser, as Bayern went direct through a rare Rafinha cross.