A one tonne crocodile believed to have eaten four people and maimed a handful of others has been captured by wildlife officials.
The whopping reptile was hauled in after a four-day hunt in Kakira, the Jinja District of eastern Uganda.
The animal is approximately 80-years-old, and 18ft long, Uganda's New Vision newspaper reports.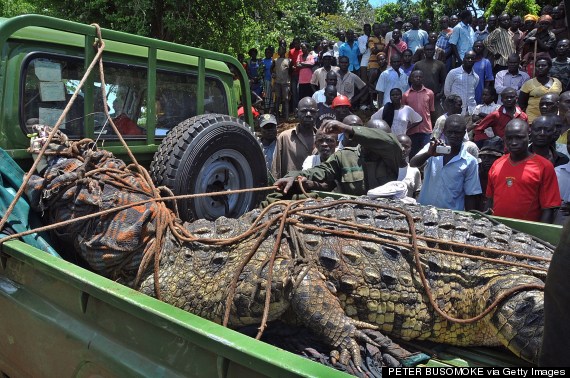 This beast was captured in Kakira, the Jinja District of eastern Uganda
A spokesman for the Uganda Wildlife Authority said the croc will be transferred to Murchison falls national park.
The beast is believed to be just 47kgs lighter than the former world's biggest crocodile.
Lolong, who was declared the largest in captivity, died in a Philippines eco-tourism park last year. He had been blamed for the deaths of a water buffalo and a fisherman, and measured 21ft in length.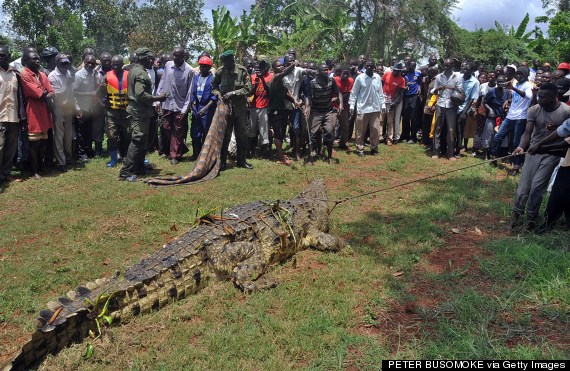 It is thought to be responsible for the deaths of four fishermen and maiming several others
Meanwhile in other terrifying crocodile news, a 13ft croc was caught at a fishing spot near Townsville in north Queensland last month.
The saltwater crocodile had been fighting with two other large animals in the area.
SEE ALSO:
Queensland Environment Minister Andrew Powell told ABC: "It's that time of the year when the guys are trying to get the attention of the girls and so what we do find is often there'll be a couple of male crocodiles around a female crocodile and often being very aggressive to each other."