Other fit women make us want to get fit, fact.
And one woman who HuffPost UK Lifestyle has a massive crush on is Nike master trainer Sonja Moses.
Sonja is as tough as it gets - she has mastered several types of fitness and regularly flies all over the world to train other people.
We took one of her boxing bootcamps (watch this space for the review) and can attest that she is warm, fierce and motivational. So we wanted to know more about this amazing woman and how she got to where she is...
What piqued your interest in sport and fitness - what were you like in school?
As a child I was always very academic at school and I suffered badly from asthma so got into swimming as a youngster to improve my overall health and fitness generally. While I didn't necessarily love swimming, I knew from an early age that it would make me stronger and mean I wasn't sick anymore; I remember it noticeably improved my asthma.
So I guess I have been keeping fit from a very young age and it's something I started doing simply to give myself a better quality of life. Swimming made me strong enough to be able to enjoy all the other sports my friends were playing like netball and rounders. I remember wanting to push myself and how much I enjoyed the feeling afterwards when I had trained – it made me feel empowered!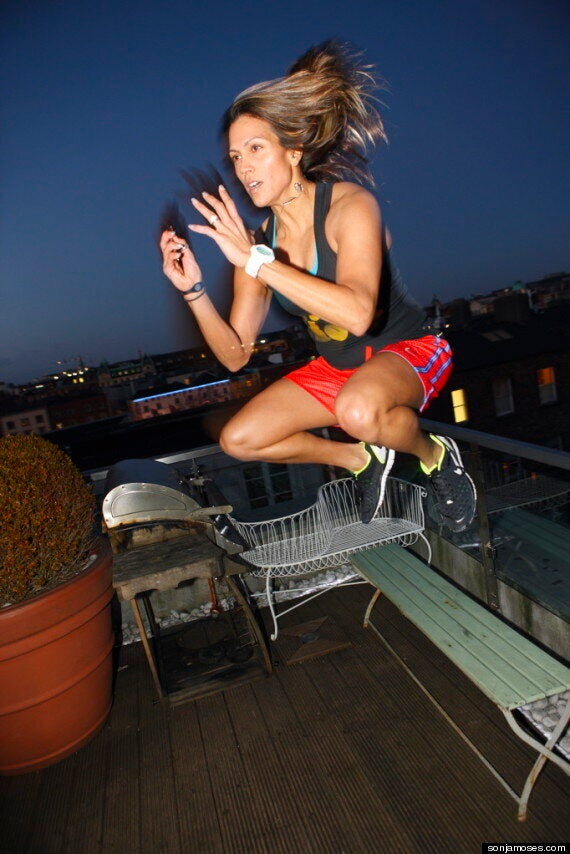 How did you go from someone who liked fitness to making a living from it?
My career in the fitness industry was never really a planned thing. When I got to about 16 years old and discovered boys and parties, I put on some weight but a part time job in a gym got me interested in keeping fit again and I saw a massive transformation in my body from doing exercise classes and being more active.
I was doing loads of classes and found that I could pick up the choreography really quickly, so I deferred my place at university and did an exercise to music qualification to pursue a career in fitness. My employers encouraged me to study and I completed a degree in Applied Sports Sciences at University of East London where I also taught as guest lecturer after I had graduated.
What qualities do you think you have that makes you well-suited to this as a job?
I am a very open, honest and natural person and what you see on stage when I'm presenting or in class when I'm teaching is me, I'm not hiding anything and I'm not acting. I think this has helped to propel my career in the fitness industry because you tend to gain people's trust and respect.
I think people realise that I'm standing up there and teaching what I believe in, rather than to look pretty and tell them what I think they want to hear! I've never been a big fan of the scripted workouts, they've never felt right for me. Maybe my honest and natural approach makes me a good role model for people because if you love yourself and be yourself in life, that's the most important thing.
What is the most gruelling thing you've ever trained for, and what did it involve?
That's got to be my Muay Thai fight training, it takes a lot of blood, sweat and tears, literally! There's obviously the physical side of it in sparring sessions, especially when sometimes I don't have girls to spar with so end up getting bashed up by the boys for a 2 hour training session.
But there's also the diet element, totally detoxing and cleansing, giving up all forms of sugar and eating like a saint in order to reach my fight weight. And also the discipline and mental training, the early morning runs, it's all round a pretty gruelling training process.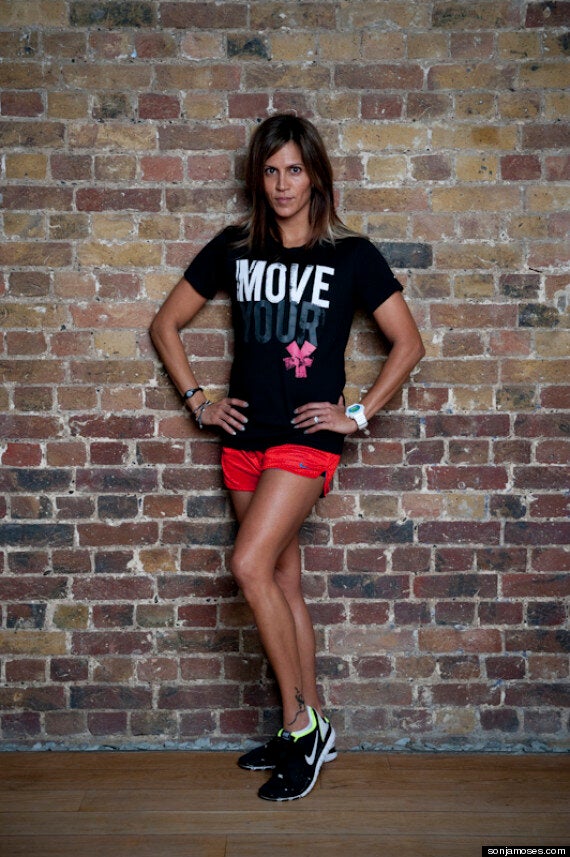 You're a Nike Master Trainer - what does the auditioning process entail?
I'm a real believe in the power of the universe and how good things happen when you're in such a positive place and all of the stars are aligned. I was going through a period like this in 2005 when I was taking part in a fitness convention to better myself as an instructor and got spotted by a Nike scout.
I received a call the next day from Nike asking me if I was interested in auditioning to be the face of Nike Women UK. It came out of nowhere! This was specifically for Nike's training and dance programmes for women in the UK, the first time they had officially recognised these disciplines. I underwent a three step audition process among a group of more than 20 well known fitness presenters from the industry.
In the end Nike picked me and another girl. We were both the underdogs if you like – raw, up-and-coming talent and maybe a bit rough around the edges! I am incredibly grateful for the opportunity I have to work around the world as a master trainer for Nike, reaching out to thousands of women through the Nike Training Club programme, both in person and virtually through my workout on the NTC App. I also get to work alongside some other fabulous Nike master trainers on that journey. The belief that Nike had in me back in 2005 and continues to have to this day means a lot.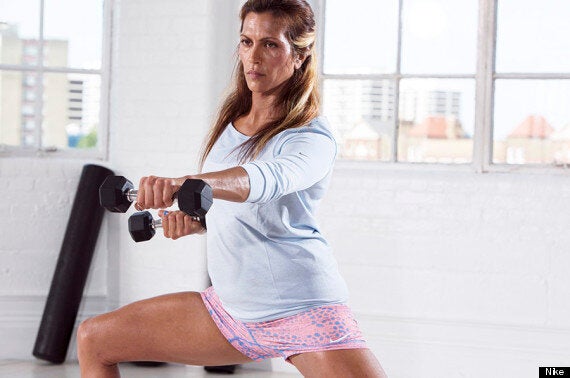 What do you do at the moment - you seem to travel a lot?
I am a master trainer, ambassador and sponsored athlete for Nike, a job which takes me around the world, reaching out to thousands of women through the Nike Training Club programme, both in person and virtually through my workout on the NTC App.
I also work alongside Nike's other master trainers from around the globe, presenting the latest and hottest trends within group fitness at international conventions such as the Nike Blast training events where I presented in Stockholm in January and the Nike Fitness Convention in Estonia where I presented in March. I'm also headed to Dubai in April to set-up and launch the Nike Training Club out there which is very exciting!
I am also programme leader for the Fight FX fitness programme, where I develop, choreograph and present martial arts-inspired fight sequences and conditioning drills for the Fight FX DVD series. I run workshops and training courses around the world, teaching the Fight FX programme to groups of fitness instructors, having worked in Turkey and Thailand already this year, with more far flung destinations on the calendar over the coming months.
I also run The Female Empowerment Collective which is building a community of strong women who are taught to believe in themselves through the power of dance, martial arts, boxing and personal development coaching and to use this self-belief to accomplish their goals and dreams. Our ambition with this is to empower women to believe in themselves in order to bring out the best in themselves and achieve anything they want in life.
What is your daily diet like?
Sometimes I intermittently fast to regulate my sugar levels so this means I am fasting until early afternoon but if my diet is pretty sound I tend to eat 5-6 small meals a day.
When I'm eating breakfast it's usually eggs with some salmon and spinach. My diet is wheat, gluten and dairy free and contains lots of protein, especially almonds, lots and lots of almonds! I also try and have some sort of green shake throughout the day and am partial to the odd Bounce ball.
Coffee is my weakness and whilst most of the time I'm pretty good with it and limit myself to one a day, when I'm tired and on the road all the time this can be my downfall. I use coconut and almond milk or, at a push, soya milk instead of cow's milk.
Sleep is really important for me and if I don't get enough my cortisol levels tend to be all over the place and I feel heavier and bloated, but if I have a good eight hours sleep I can control this. I also take vitamin supplements from Usana twice a day because they are pharmaceutical grade and you don't always find this with off-the-shelf supplements which a lot of the time aren't.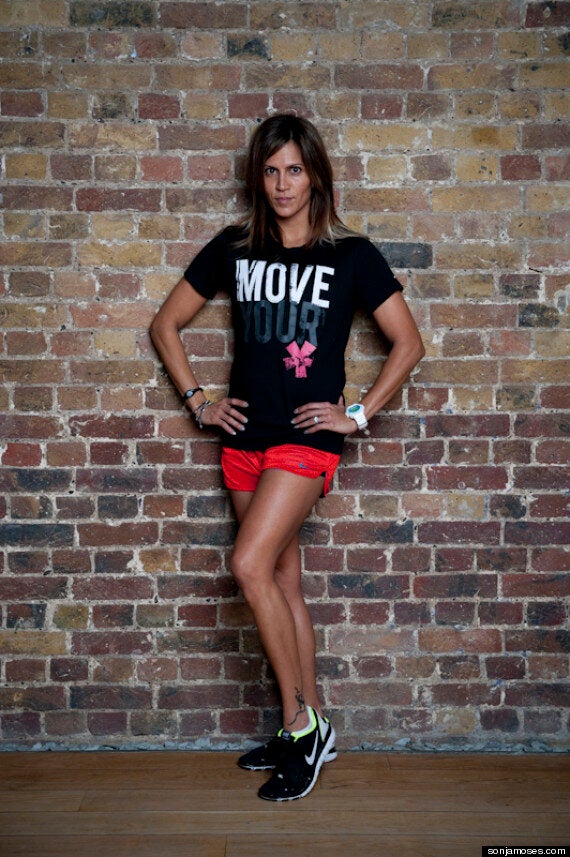 Do you ever splurge or treat yourself and if so, what is it?
I find it really really hard to splurge and treat myself as I'm wheat, gluten and lactose intolerant. I might have a bit of dark chocolate from time to time but if I splurge it tends to be on a lychee martini (they taste SO good) or something like that after a Busaba thai!
How often do you exercise?
When I'm not training for a fight, in an ideal world I'd train every day for an hour, which might be split between the morning and evening.
So I'll do a 5km when I get up in the morning and some weight training in the evening, including machines, free weights and my favourites: kettlebells, TRX and the rip trainer. My own exercise doesn't include my classes because I classify this as other people's training time, not my own.
One piece of advice you'd give to women and men starting out in fitness?
I'd recommend trying it out at home first. Something like the Nike Training Club app that you can download for free and do in the privacy of your own home.
It contains all different levels of workouts with global master trainers and athletes ranging from 15-45 minutes long. That way they can do some training at home and when they want to be with crowds and feel like they're a little bit more confident and fitter then can come and join in with a group.
Do you have a fitspiration motto?
Be at one with your body and find the connection with your mind. Remember why you came to train, focus on your goal….and work hard!