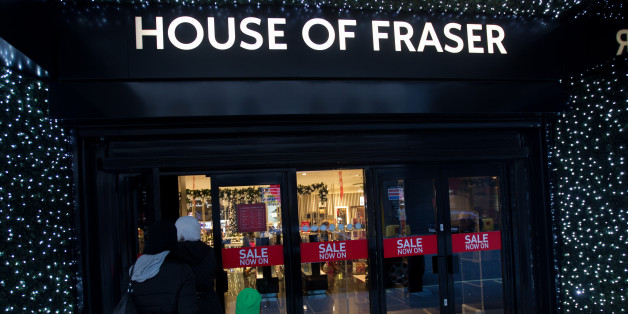 Steve Parsons/PA Wire
A Chinese conglomerate has bought nearly 90% of iconic British department chain store House of Fraser, it has been announced.
Nanjing-based Sanpower Group has bought around 89% of the chain, which was founded in Glasgow, Scotland in 1849 as Arthur and Fraser and is now valued at £450m thanks to the deal, the Daily Telegraph reported.
The chain, which has 61 stores in the UK and Ireland, had been expected to make an initial Public Offering (IPO).
Sanpower already has a controlling stake in more than 100 companies and is led by one of China's richest men, Yuan Yafei.
The deal, which is understood to be currently being finalised, is the latest in a series of acquisitions of stakes in British businesses by Chinese buyers.
China's Investment Corps has a 10% stake in Heathrow Airport. A total of 60% of whole-grain cereal Weetabix belongs to Chinese firm Bright Foods and luxury retailer Harvey Nichols has belonged to Hong Kong businessman Dickson Poon since 1991.
Chinese investors recently took a 35-40% stake in Britain's Hinkley Point nuclear power station.
House of Fraser, which was founded in Glasgow in 1849, has been in private hands since 2006.
Find out what other British businesses Chinese investors have been snapping up below: