Eddie Izzard has bowled north to join the campaign to persuade Scottish voters to vote against leaving the UK in the forthcoming independence referendum. The comedian, who has given voice to his future political ambitions, described his trip to Scotland as "intimidating", particularly as he was subjected to a raft of online abuse after he announced he would stage a fundraiser for the Better Together campaign ahead of the poll in September.
"It's quite a tricky thing because you guys are quite intimidating," he said ahead of the event at Edinburgh's Festival Theatre on Friday evening. The comedian added that he would try and keep the gig apolitical, but still expected some heckling. "Obviously if there are people who are politically against it, that is quite intimidating. I am going into politics. I'm running for office in 2020 so I am more up to speed on this, but it's a tricky old thing."
Izzard invoked Scottish Wimbledon winner Andy Murray, who also won Gold for Britain at the London 2012 Olympic Games. "It wasn't me, an Englishman, saying look there's a Scotsman," he said. "It was just that we are British, and he was winning, and it was us, and I think that is beautiful.
"If you look back at the history of what used to happen between the Scots and the English, the war and the blood and the death, I think it is beautiful that we have got to this position of being together.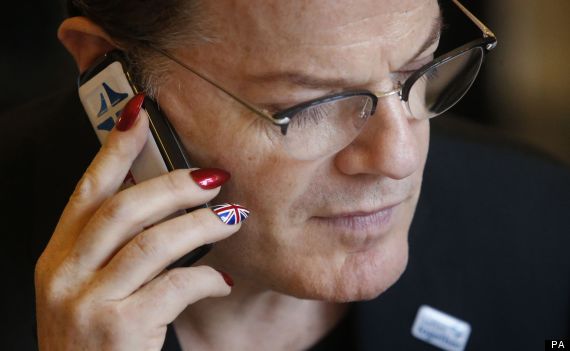 Eddie Izzard joins activists making telephone calls to undecided Scottish referendum voters
"I am an Englishman called Edward, and there are a few Edwards that have had a history at Bannockburn and in the Braveheart film. But I am an Edward who ran eight marathons with a Scottish flag. I ran to the top of Arthur's Seat here in Edinburgh, and I've also played nearly every major town and city in Scotland up to and including Shetland.
"I've run the whole of the UK and I didn't find a difference when I got to the border of Scotland. I do want to do honour to the Scottish people. When I watched Braveheart I was in tears and I was rooting for the Scottish people.
"I hate all that hell that went on before. I know all of this history and I know that in any football match England is playing, Scotland will support the other team - but I would always root for Scotland."
More from the Press Association:
The 52-year-old said that he was expecting a tough time as the fundraiser, but he was prepared to deal with it. "You've got to realise that I am transvestite so I've already had a lot of negative things said to me over the years in the street, so nothing in politics can happen which is worse than that," he said, bearing his nails painted with the British and European flags.
"It's a political statement, British European transvestite, and if you're a Scottish transvestite you can have the same nails and it will still work. Yes, I'm expecting some (heckling) and I will say 'hello, how are you' and they'll say something to me and might swear at me.
"I did street performing on Sauchiehall Street years ago and I got heckled there. This guy walked past and said 'bleep off you English bleep', and you can put F and C words in there. I said: 'This is the head of tourism for Glasgow and he's just welcoming me to the show'.
"I've been through quite a bath full of rough gigs so I've learned to do comedy and have fun, and I'm positive about the Scottish people. No matter what happens in this referendum I will be positive about the Scottish people."
He added: "I think the more powers that Scotland wants, logical governance should mean that they should have as many powers. I would assume defence would be more collective." Izzard will be joined on stage by local comedian Andy Todd, author of the satirical book Fat Minister's Question Time.
Todd said: "The referendum is a serious issue but that doesn't mean we can't make jokes about it. "With months of campaigning behind us and five months still to go, it's easy to lose track of the issues as each side goes over them again and again and again. A good joke is like a firework. It cuts through everything and makes even the most jaded sit up and listen.
"The referendum is a decision for the people of Scotland but its impact doesn't stop at Gretna. It's right that people in the rest of the United Kingdom make their feelings known. They might not have a vote but they have a voice and it should be heard."
Alistair Darling was accompanied at the Better Together fundraiser by Edinburgh author JK Rowling, who penned the hugely successful Harry Potter series. Tributes were led before the show to independent nationalist MSP Margo MacDonald, who died today. Leading a round of applause, Izzard said: "I didn't know her but her reputation was huge."
In contrast to his fear of heckling, one audience member shouted: "Eddie we love you." Izzard said: "That was a positive heckler. I came ready for a fight."