A group of entrepreneurial school kids from London's Brondesbury College hope to win the finals of a business competition after successfully pitching their idea for a new app to a group of prominent entrepreneurs.
The pupils came top after a day of pitching by teams from schools all around London to a judging panel that included chef Vivek Singh, founder of London's Cinnamon Club, and Shazia Saleem, founder of iEat Foods, as part of the capital's regional finals of the Apax-Mosaic Enterprise Challenge.
The event, compered by ITV producer Roohi Hasan, saw schoolchildren as young as 11 taking part in Dragons Den-style pitches to the judging panel, before a winner was selected.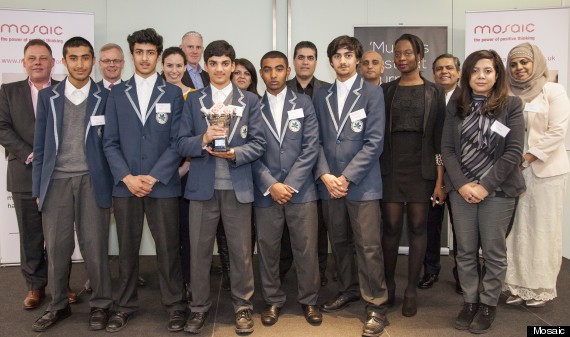 The five highest scoring teams that took part were Brondesbury College, King Solomon High School, Oaklands School, Crest Boys' Academy and Heston Community School, with finalists from across Britain facing off next month in order to win a £2,500 cash prize and £500 seed fund to start their business.
The Brondesbury team's app aims to replace paper-based school diaries with e-diaries, so that pupils never miss their homework, and parents are kept fully informed of their child's attendance, grades and important announcements. The app would also feature interactive fun weekly quizzes to create healthy competition, enabling students to excel.
The competition has been put on by Mosaic, an initiative from the Business in the Community, which is backed by the Prince of Wales, and aims to teach young people from deprived backgrounds entrepreneurial skills through mentoring and lifting their aspirations.
Shazia Saleem, who launched the Halal 'British favourites' ready-meals range in Sainsbury's, told HuffPostUK: "You saw kids that actually had built in corporate social responsibility programmes into their start-ups. It's phenomenal. I didn't even know what that was at that age!"
"I'm so impressed with how Mosaic's programmes have helped to develop the skills, business acumen and confidence of these young people – I am sure that they will go on to do big things - the future of the UK business landscape will be much more exciting with talent like this contributing to it!"
Cinnamon Club co-founder Singh, said: "I was truly impressed by the business ideas the 5 teams had come up with, I wish there was something like this initiative when I was younger to teach me the pitfalls of business!"
Brondesbury College student Ikhlas Qazi, said: "The Apax-Mosaic Enterprise Challenge has been fantastic – it's really helped us to visualise how businesses actually work in the real world, and we've got to liaise with real life business people.
"We're ecstatic we've won the regional heats and are really looking forward to smashing the national Grand Finals!"
Brondesbury College teacher Shahied Yousaf said: "The competition is a fantastic initiative that has inspired our students at Brondesbury College. It has enabled them to take the skills they have learned in the classroom and see how they translate into the real business world via an exciting simulation game."
The competition is co-sponsored by the Apax Foundation, and the Department for Communities and Local Government (DCLG).