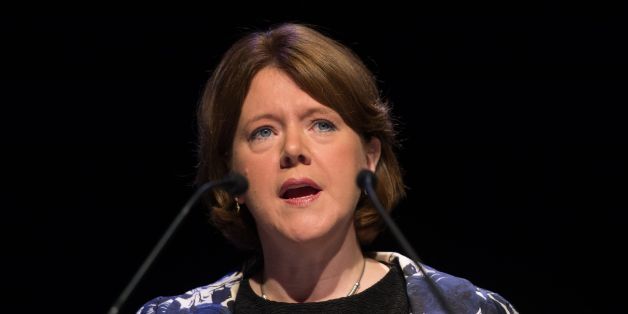 Stefan Rousseau/PA Wire
A Conservative backbencher has told The Huffington Post UK that if Maria Miller was a man she would have been sacked.
The unnamed MP is one of a growing number of backbenchers who have expressed deep concern about how David Cameron has handled the row over the culture secretary's expense claims.
"I do wonder if her name was Mark Miller something different might happen. Colleagues think he would have been gone a week ago," the MP said.
"Any expenses scandal is a plague on all our houses. Backbenchers of all parties. It fills us full of dread, because it just drops the whole standing of parliament another notch with our electorate. It doesn't look good.
"There is no mention of 649 MPs whose expenses weren't under scrutiny in the last week. We are all tarred with the same brush."
Meanwhile, a poll showed more than two in three Tory voters thought she should be sacked.
The prime minister has so far refused to bow to significant pressure from both the public and within his own party to drop his support for the culture secretary - insisting she has "done the right thing".
Downing Street insisted that there were also "plenty" of colleagues coming forward to give their backing to the under-fire Cabinet minister, despite more than 123,000 people signing an online petition saying she should repay £45,000 or quit.
Miller gave a 32-second apology to the Commons - described as "contemptuous" by Labour in a formal complaint - and agreed to hand back £5,800 after the larger sum recommended by an independent watchdog was overruled by a committee of MPs.
She has also been forced to deny she will seek to dodge a capital gains tax (CGT) bill potentially running into tens of thousands of pounds after making a £1.2 million profit on the sale of her part-taxpayer-funded London home.
On Monday evening Esther McVey, the Tory employment minister widely tipped to be promoted in the next reshuffle, became the first minister to openly criticise Miller.
She told ITV's The Agenda programme that Cameron had "the final say" on what happened but indicated she was not overly impressed with her government colleague. "I can honestly say it wouldn't be how I would have made an apology. But different people have different styles and do things in different ways," McVey said.
Asked if Miller should keep her job, she said: "David Cameron has the final say on this. He's standing by her."
Cameron is due to address the influential Conservative backbench 1922 committee tomorrow before MPs depart Westminster for their Easter break and spoke yesterday with its chairman Graham Brady in a pre-arranged meeting.
Backbenchers have been privately and publicly expressing irritation that the row is disrupting the local and European election campaign, and preventing the party from taking full advantage of improving economic conditions.
Backbencher Jackie Doyle-Price, who is clinging on to the most marginal Tory seat in the country, suggested Miller risked the voter backlash costing the party dear in both May's European elections and the 2015 general election. She told BBC Newsnight on Monday evening: "If I were in that position, facing a difficult set of local elections, I wouldn't be expecting my colleagues to defend me."
And Nicola Blackwood, the MP for marginal seat of Oxford West and Abingdon, said it was "very unhelpful" for the issue to have dragged on for as long as it already had. "If I was faced with the kind of questions she is faced with I would be really quite worried indeed," she told the BBC.
They said the PM's view would not be swayed by the findings of another poll suggesting only 8% of voters backed his stance and that more than two in three Tory supporters (69%) were among the 74% of voters who think he should have sacked Mrs Miller.
A ComRes survey was commissioned by Conservative Grassroots, an organisation founded by senior party activists, found that more than two in three Tory supporters (69%) were among the 74% of voters who think Cameron should have sacked Miller.
Chairman Robert Woollard, a former constituency party chairman, said: "Mr Cameron's support of the culture secretary is completely irrational.
"When David Cameron spoke about the need for the actions of those in Parliament to pass the smell test, it was exactly for such occasions as these. Well this whole issue stinks and as this poll finds, it is incredibly damaging to our party and the PM personally."
However not all backbenchers have been critical. Nadine Dorries, who is no fan of the prime minister, used Twitter to defend the apology Miller gave in the Commons. "MPs don't get to make their apology, it is the Speaker who decides what words are said and how, not MP Speaker has final word. So any MPs criticising the apology of Maria Miller are being a teeny bit stupid - Mr Speaker doesn't like and won't approve long apologies," she said.