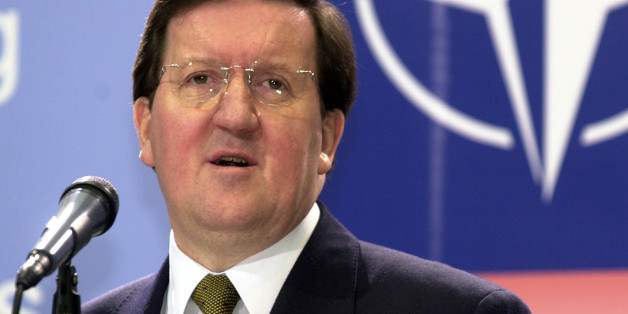 David Jones/PA Archive
Scottish independence could have a "cataclysmic" impact on the world, a former Nato general secretary has warned.
Lord Robertson, a former UK defence secretary in Tony Blair's government, spoke out against the dangers of "breaking up the solidarity of the West at this particular time".
In a speech in the US, he called on the people of Scotland to "properly and soberly examine the impact of their decision" in September's independence referendum on "the stability of the world". Lord Robertson made the plea in an address to the Brookings Institution in Washington.
Scotland's Deputy First Minister Nicola Sturgeon said she was "shocked" by Lord Robertson's "insulting and offensive" comments, adding that his language "does a real disservice" to the debate about Scotland's future.
She hit out after Lord Robertson said: "The loudest cheers for the break-up of Britain would be from our adversaries and from our enemies. For the second military power in the West to shatter this year would be cataclysmic in geopolitical terms.
"If the United Kingdom was to face a split at this of all times and find itself embroiled for several years in a torrid, complex, difficult and debilitating divorce, it would rob the West of a serious partner just when solidity and cool nerves are going to be vital.
"Nobody should underestimate the effect all of that would have on existing global balances, and the forces of darkness would simply love it."
Sturgeon told BBC Radio Scotland's Good Morning Scotland programme: "Lord Robertson is a longstanding and very vociferous opponent of independence, so on one level I perhaps shouldn't be too surprised by the comments that he's made.
"On another level though, I am quite shocked at these comments. The contribution George Robertson made last night, and in particular the language he's used to make it in, I think does a real disservice to the debate.
"Look at some of the language: 'It would be cataclysmic for Scotland to become independent, it would aid the forces of darkness, it would threaten the stability of the western world'. That just completely moves away from any semblance of rational debate and I think many people, whether they're Yes or No, will find these comments insulting and offensive."
But Lord Robertson told the same programme he wanted other countries to speak out about the impact Scotland leaving the UK could have.
"I want all those in the world who understand that the break-up of the United Kingdom would have cataclysmic geo-strategic effects, breaking up the solidarity of the West at this particular time, to say that," he said.
"If people are worried about it, and I know they are, then I would hope that they would give the message that they would like the United Kingdom to stay together."
He said Scottish Government plans to remove Trident nuclear submarines from their base on the Clyde in Scotland in the event of independence could make it "very difficult for Nato to accept them" as a member.
"Effectively, they wouldn't just be disarming an independent Scotland, they would effectively be disarming the remainder of the United Kingdom," Lord Robertson said
"I don't think that that would be viewed with great comfort or with any great satisfaction by those in the alliance who believe that Britain's nuclear deterrent is part and parcel of the West's security."
SEE ALSO: Salmond Dismisses Westminster's 'No' Campaign As 'Embarrassing'
He also insisted he was not scaremongering, saying: "I think if people think carefully about the world as it is today and what we've seen in Ukraine, what we see in Syria, what we see in the East China Sea and elsewhere, they'll recognise that this is a time for solidarity and solidity among the countries that are known as the West and the break-up of one of the principal countries in the West would certainly have major repercussions in the world, and people in Scotland I know will bear that in mind."
Sturgeon said there was "intense interest" across the world in the debate over Scotland's future. But she stressed an independent Scotland would be a "voice of peace and co-operation" with its international partners.
Meanwhile, First Minister Alex Salmond set out his vision for Scotland in Nato as he delivered the inaugural Caledonian lecture at Glasgow Caledonian University's New York campus last night.
Describing Scotland's place in the world, he said the country will be an enthusiastic member of the European Union, part of the British-Irish Council and a "constructive" partner in Nato.
"We won't have nuclear weapons - nobody seriously believes that a nation of five million people should be a nuclear-armed power," he said.
"But we will co-operate fully and constructively with our neighbours and partners, like the 25 Nato members, out of 28, which are not nuclear powers."
Sturgeon called on people to "step back into the realms of rational debate", and added: "The process we're going through right now is the model of democracy. It's only last month that John Kerry, the US Secretary of State, held up the Scottish model of referendum as a shining example of how these things can be done.
"If Scotland does become independent, if we democratically choose independence, then an independent Scotland will be a voice of peace and co-operation with our partners across the world. We don't have to look very far to see the positive contribution that small states make across the world today.
"George Robertson is a former secretary-general of Nato. A former prime minister of Norway, a small independent country very similar to Scotland, a country without nuclear weapons, is about to become secretary-general of Nato. So George Robertson's comments are not only in my view deeply insulting and offensive to people across Scotland, but they completely fly in the face of the modern world and how it works today."
She said getting rid of nuclear weapons "would put Scotland in the same position as the overwhelming majority of countries across the world".
The Deputy First Minister added: "We have increasing numbers of senior military experts now saying that nuclear weapons are not the response to the threat the world faces today. They're not the response to international terrorism, they're not the response to rogue states."
She went on to state independence would allow Scotland to "play a big part in promoting peace around the world", and added: "I think everybody in this debate, whether they're Yes, No or undecided, should really take issue with these ridiculous comments made by George Robertson."