That was when Hennie spent two days in a compost toilet for their film together. What would Nikolaj have to say this time around, with Aksel nearly killing himself during an unscripted car roll during the making of Norwegian thriller 'Pioneer'?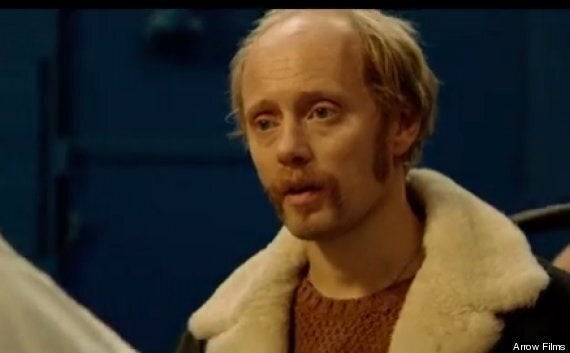 Aksel Hennie - an unlikely-looking superstar in Norway, about to enjoy fame further afield
"I almost died during the movie," Aksel reveals, of one incident when the car he was driving rolled over during filming. "The car wasn't meant to roll around, but it did. I was in the car. I survived, luckily, but it was this close. I didn't hurt myself, which was a miracle."
WATCH Aksel Hennie's Almost-Disastrous, And Unscripted, Car Crash Roll Above
Aksel Hennie, a household name in his native Norway for his on-screen physicality and intensity – think Steve McQueen of the Fjords – stars in 'Pioneer', which tells the story of Petter, a deep sea diver embroiled in a corporate battle between Norwegian and American oil companies as they strive to build a pipeline on the ocean bed, and mint the lucrative natural resources beneath.
It is a tale ripe in its political intrigue, the theme of the state being hand-in-glove with big industry, leaving isolated men to fight their corner. It has the kind of feel of a high-quality 1970s thriller, and its US remake rights have been quickly scooped up by 'Argo' producers George Clooney and Grant Heslov.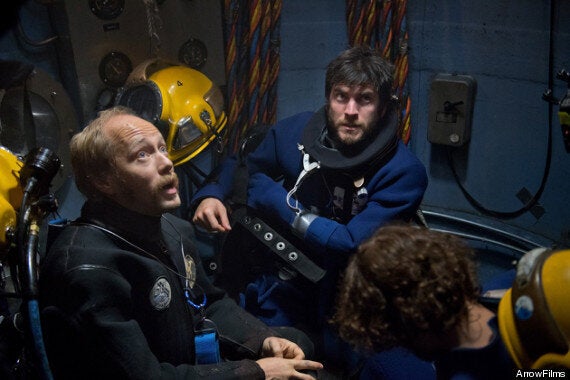 The competition for the sea bed provoked divers to take extraordinary measures
Aksel, whose English-speaking career is beginning to take off – he recently appeared in blockbuster 'Hercules' - admits himself he's of the first generation of Norwegians not to have to think about money, simply because his family had so much of it…
"I was born in 1975, just a couple of years after we got the money," he remembers. "My mother grew up without any wealth. My generation is the first generation that didn't feel anything when it came to being poor. I've never felt what they felt. Doing the research for this movie, and seeing how recent it was... 40 years ago we were peasants and fisherman, we had nothing, and suddenly the oil is there, and suddenly we're the richest nation in the entire world.
"And to get that money, we needed some people to be pioneers, and these scuba divers, they did crazy, crazy things. One experimental dive, they went down to 500 metres, and a lot of these people have got neurological damage. They just won against the Norwegian govt in the European human rights, and that's a fight they've been having for the past 30 years.
"Some of them are dead. Some of them have committed suicide, some are seriously ill, and the problem with this case is that the reason why they haven't got the money they deserve, or the honour, or the reason why the government hasn't apologised to them, is that you cannot one give single proof of diving in the 1970s of being the reason why they're damaged. It's mystical.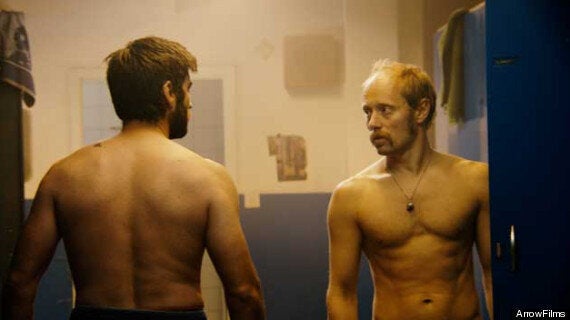 Divers became very competitive with one another for the great spoils on offer, seen here in the film with actors Wes Bentley and Aksel Hennie
"I met the real divers when we started with the project, but they were sceptical – 'here we go again, some other guys are going to make money out of our misfortune' – but after the movie, they were grateful, which made me happy, and made it worthwhile in a different way.
Aksel, himself an experienced diver and an actor who prides himself on doing all his own stunts, typically took on the challenge of plunging to dangerous depths for his research.
"I told the divers I wanted to go down to maximum depth, I went down to 60 metres, and I spent 90 minutes in the pressure chamber. And I did a lot of stuff, pressure chamber dives, one 11-metre dive when I was welding underwater. And I dived on air…" he spots my lack of comprehension… "It's very technical," he assures me.
"I don't want to get high pressure nervous syndrome," he adds for clarification, "but I want to do as much as I can to meet the challenge."
For the time being, looks like Nicolaj Caster –Waldau's going to be having that latte on his own.
'Pioneer' is in selected UK cinemas from today 11 April. Watch the trailer below...
Popular in the Community