A scientist given 18 months to live by doctors was declared fit to work by Atos and died penniless because he lacked the energy to appeal, his family have said.
Robert Barlow was forced to give up the job he loved as a government scientist nine years ago when diagnosed with severe cardiomyopathy, a heart defect. He had worked for years as a microbiologist for Defra in Cambridge, the Cambridge News reported.
Barlow, who died aged 47 in November 2013, has had his case taken up by his local MP Luciana Berger, who believes the government can learn lessons from the case and how he was treated.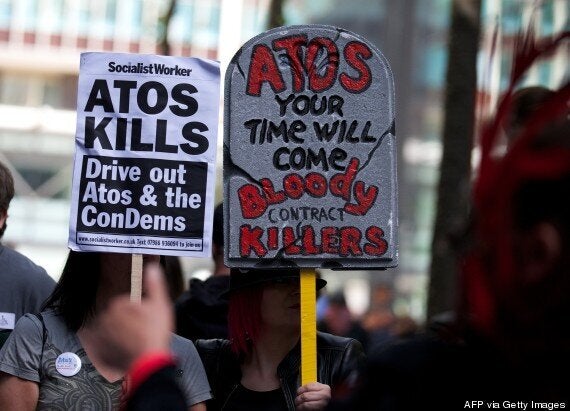 Protesters carry placards during a protest against multinational IT firm and Paralympics sponsor Atos
Barlow, a trained classical painist who had also suffered a brain tumour was being urged by doctors to have a heart transplant at the time he was also being assessed by Atos, the Liverpool Daily Echo reported.
"I don't know how they expected him to work. Nobody would have loved to work more than him but he simply couldn't," aunt Joan Westland told the paper, describing her nephew as a man who loved cricket, cooking, and who "had a beautiful sense of humour".
"Robert said he wouldn't have the heart transplant. He had no commitments and thought it would be better if there was a heart for it to go to somebody else.
"We tried to talk him into having the operation but he wouldn't do it.
"Robert was dying and he accepted that. I feel he should have been left to enjoy what little time he had left."
He was declared fit to work, despite partial blindness and difficulty walking, by Atos in early 2012, with his Employment and Support Allowance (ESA) cut and free NHS prescriptions stopped.
Initially deciding to appeal, Barlow decided to withdraw it because he felt too ill to fight, his aunt said.
"Robert had very little money on benefits and nothing at all when his money was stopped," she said said. "I know there are scroungers but he was not one of them."
Barlow died after never regaining consciousness following a fall at home – just seven months after his mother passed away.
Wavertree MP Berger, the shadow public health minister, had raised Barlow's case in the Commons previously. "Robert died at the age of 47, struggling to get by," she said, calling for an "urgent debate on the impact of too many of these Atos decisions on sick people, particularly when access to free prescriptions is taken away".
A DWP spokesman said: "We have followed the correct procedures in the processing of this benefit claim. People have the right to appeal a decision, but if the appeal is withdrawn we cannot continue with processing the claim."
Wirral West Tory MP and Employment Minister Esther McVey previously defended the fit-to-work tests, saying: "Our reforms will make sure the billions we spend every year give more targeted support."
A DWP spokesman said: "Our thoughts are with Mr Barlow's family. However, it is not true to say he died after being found fit for work.
"Mr Barlow appealed to the Tribunal Service, but the appeal was then withdrawn so we couldn't continue the benefit claim. He died over a year later.
"The WCA was introduced by the previous Government and we knew it wasn't working as well as it should, which is why we introduced a series of independent reviews and have made significant changes to make it better."