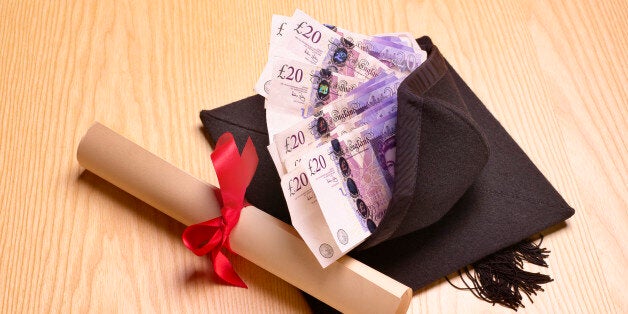 The vast majority of students will still be paying back university tuition fee loans when they are in their early 50s, and many will never repay their debt, meaning the government will lose millions of pounds.
A new study suggests that almost three-quarters of graduates will have at least some of their loan written off under the new regime, with the average amount wiped out standing at around £30,000. The government recently admitted around 45% of graduates will never earn enough to pay back their loans.
The Sutton Trust, which commissioned the research, said the findings showed that the new fee system could leave professionals such as teachers in a position where they have to find cash to cover loan repayments at a time when their family and living costs, such as mortgage payments, are at a peak.
Under major reforms of university finances, tuition fees were raised to a maximum of £9,000 a year in 2012, almost treble the previous fee which stood at around £3,000.
Students do not start repaying their loans until after they have graduated and are earning at least £21,000 a year, at a rate of 9% on all income above this threshold. This compares with a £15,795 threshold in 2012 for the old system. Debts are written off after 30 years.
Story continues below gallery..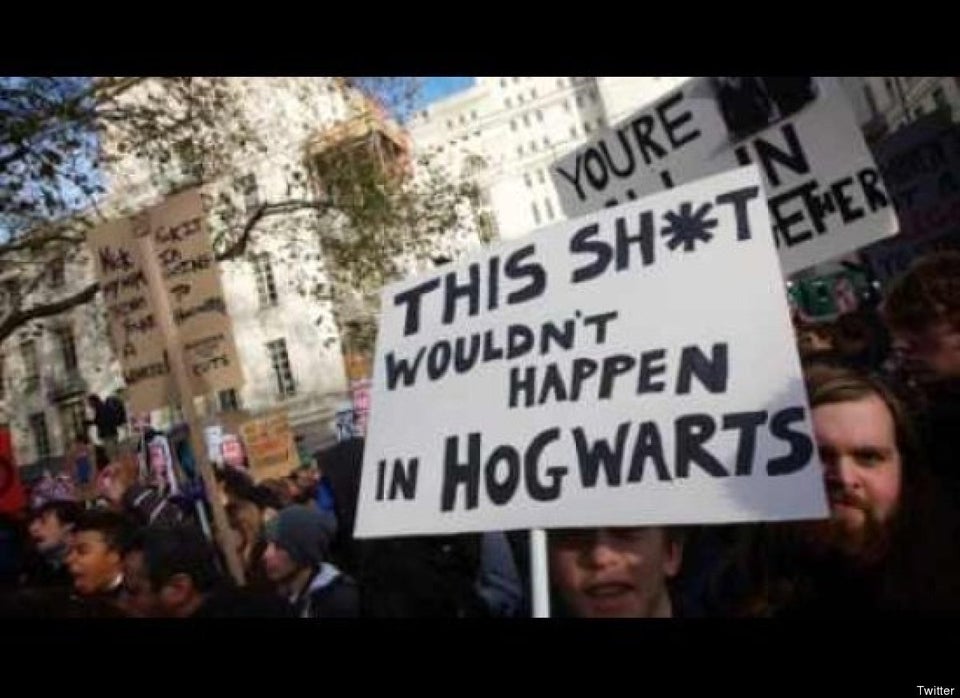 Funniest Student Protest Signs
Those studying for a degree under the new regime also pay an above-inflation interest rate of up to 3%, which begins while they are still at university, whereas previously there was no real rate of interest.
The study, by researchers at the Institute for Fiscal Studies (IFS) examined the two systems to assess the impact of the new student loan system which was brought in at the same time as higher tuition fees in 2012.
It found that a typical student will now leave university with more than £44,000 worth of debt from fee and maintenance loans - without accruing interest after graduation - around £20,000 more than they would have done under the old system.
The vast majority of this increase is down to students borrowing more to cover higher tuition fees.
In cash terms, the researchers estimate that graduates will now repay a total of £66,897 on average - equating in real terms to £35,446 on average in 2014 prices.
While the lowest earning graduates - those whose salaries rarely top £21,000 - will pay back less under the new regime, those who earn higher salaries will pay back substantially more.
And the decision to bring in a real, above-inflation interest rate on student loans means that almost half (45%) of graduates will pay back more than they borrowed in real terms, the report adds.
But despite the fact that large numbers will repay more than they borrowed, the vast majority will not return their loan in full, the study says.
"We estimate that 73% will have some debt written off at the end of the repayment period, compared with 32% under the old system. The average amount written off will be substantial - about £30,000."
The researchers go on to say that, under the new system, most graduates will repay slightly less until they are in their mid-30s than they would have done under the old regime, but will then pay more in their 40s and early 50s.
As an example, the study says that an "average" teacher - who takes out an average level of loan, works every year after graduating and has average earnings for their profession - would repay £25,000 in today's prices under the old system, finishing their repayments by the time they are around 40.
Under the new system, this teacher would pay back around £42,000 in 2014 prices, but would still not have finished paying back their loan by the time they are in their early 50s, and would have around £25,000 written off.
Conor Ryan, director of research at the Sutton Trust, said: "There has been a lot said about the lower repayments that graduates make in their 20s under the new loan system, but very little about the fact that many graduates will face significant repayments through their 40s, whereas many would previously have repaid their loans by then.
"The new system will benefit graduates who earn very little in their lifetime. But for many professionals, such as teachers, this will mean having to find up to £2,500 extra a year to service loans at a time when their children are still at school and family and mortgage costs are at their most pressing.
"With recent revelations about the proportion of loans unlikely to be repaid, it seems middle-income earners pay back a lot more but the Exchequer gains little in return. We believe that the Government needs to look again at fees, loans and teaching grants to get a fairer balance."
The report comes just weeks after it was disclosed that the Government's current assessment is that around 45% of loans will not be paid back, close to the 48.6% threshold at which experts say the Government will begin to lose more money than it gains under the new system - effectively cancelling out the benefits of raising tuition fees.
A Business Department spokeswoman said: "As a result of our reforms, a greater proportion of students from disadvantaged backgrounds are going to university than ever before.
"Most students will not pay upfront to study; there are more loans, grants and bursaries for those from poorer families. We have protected those on lower incomes by increasing the repayment threshold to £21,000 and our universities are now well funded for the long-term."
Shadow universities minister Liam Byrne said: "David Cameron's student finance system has lost its last shred of credibility. Degree costs have trebled yet costs to the taxpayer have gone up, and now we learn our children and grandchildren will be paying off their student debt well into their 50s. The system has lost all fiscal credibility and is losing public confidence."