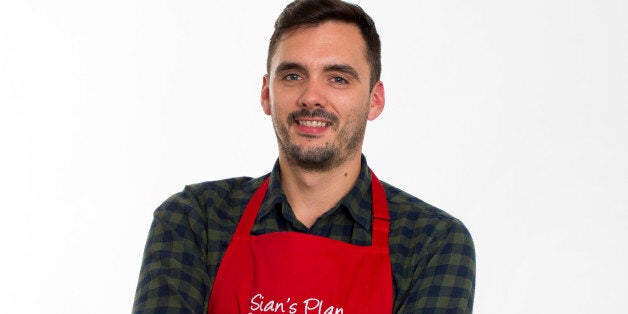 Vincent Breslin's entrepreneurial skills were recognised early on when in his teens he invented a treasure hunt game in Ireland, earning him an "entrepreneur of the year" award.
After an initial stint working in London's tech start-up scene, Breslin teamed up with his mother Sian to develop a website that allows people to easily plan and prepare healthy and affordable meals, which they named Sian's Plan.
Breslin has got nearly 5,000 subscribers in Ireland and, having smashed a target to raise £100,000 through crowdfunding via the Seedrs website, has his sights set on the UK market.
HuffPostUK caught up with the 29-year old food entrepreneur to find out how he got the entrepreneurial bug and were he and his mother are aiming to take Sian's Plan.
What was the idea behind Sian's Plan?
The idea behind the service stems from my mum's 30 years as a home economics teacher, her experience running an award winning cookery school; and of course running and managing a family home on today's decreasing budgets.
Over the years we've seen more and more families and individuals finding themselves with less time less time to prepare healthy meals at home or eat together as family.
For too long the 'solution' to this has been convenient, processed foods - easy to prepare but terrible for your health, which we're now becoming much more aware of as a nation – particularly with the recent exposure of hidden sugars in most of the foods we consumer every day.
The answer to eating healthily has always been scratch cooking, but with today's generation of time pressed, budget stretched families and individuals out of touch with home cooking, a simple, effective solution needed to be offered.
Mum knew that the answer lay in home economics so developed her solution over a couple of years. She tested it on paper in her cookery school with great results. I was based in London at the time working in digital development so when she started telling me all about her idea I knew immediately that there was huge potential in an app. I got on board and we spent a year and a half developing the Sian's Plan web app and raising finance. We've only just begun and have lots of exciting plans for the future.
Tell me how you went about starting it up, where did you get the funding from?
As total newbies to the startup world when we began, the path to funding was a long and often demoralising journey. It's not for the faint hearted and it's definitely not a get rich quick scheme.
The challenges are many, from raising investment, developing a functioning product, managing the finances and building a team. These are the normal day to day challenges for any business but a startup begins and ends on your head.
You have to put your neck out to get anywhere but you're going to be told at least once a week that you've got no chance. Sometimes it's hard not to take that personally. The lessons I've learnt are to take good advice on board, ignore the bad, stay focused, have fun and don't let anyone put you down.
How is the business doing now?
We're still very early days but signs are very positive. We've been growing our member base at a rate of 30% month on month and seeing huge growth in conversion rates recently at around 200%.
We're only now launching to the market so expect our growth figures to rise significantly...! I think the validation from our own members and the public investing in has given us more confidence than anything else.
Tell me about you being recognised as a young entrepreneur in Ireland, what was it for?
That was for a little business I created called Treasure Ireland. Our family used to travel around Ireland a lot when we were young.
It was the early 90's, we didn't get out of the country much back then! We were down in a small town in Co. Claire, it was filled with really interesting old buildings, monuments and the like but we didn't really know what they were all about. There was no story to them.
I thought a great way to get to know a town would be to do a treasure hunt of sorts. You'd start off at point A, answer a clue to get to point B, and learn a bit about the historical importance at every stop. There were cryptic clues for the parents and simple ones for the kids. I made one for my home town in Donegal and sold them in the tourist information office. You'd get a pack with a map, questions, answers and pencils.
The vision was a treasure hunt in every city – but instead I won £1,000 for the initiative. With that I bought my first computer and started making websites instead! Although come to think of it, Treasure Ireland would make a great app now.
Who or what is your entrepreneurial inspiration?
I would always look to my family and friends above anyone else. My mum has always been entrepreneurial, from having her own clothing range, to setting up her cookery school. She's awesome. No one is ever going to tell her that she can't do it, I get that from her.
My dad is the one that makes it all possible though. From keeping us ticking over financially to putting up with our endless debates, without him we would be nowhere.
What is your ambition for the next few years for Sian's Plan?
The long term vision is that Sian's Plan will be your most trusted resource in the kitchen.
We're all about the Monday to Friday, those times when it's challenging to cook a healthy meal. We're busier than ever before and we're not being taught essential life lessons in school anymore. We want to make healthy eating achievable for all and believe that our philosophies are best suited to do that.
Over the next few years we aim to get a strong foothold in the UK market and expand overseas to the US and Australia where some of our investors are based. We're looking forward to integrating with wearable tech and developing our own internet of things for the kitchen. We imagine a time when you can print your Sian's Plan measuring cup on your 3D printer and off you go.
Sian's experience as a busy mum of 3 and professional home economist gives us a huge advantage to put technology to work in the right way. Technology should add meaningful and consistent value to your life, and we think we know how.
Related