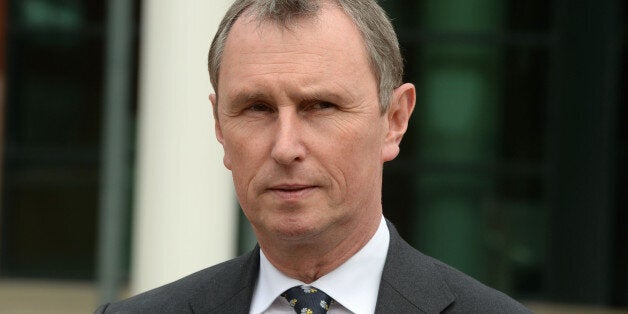 Conservative MP Nigel Evans has demanded the Crown Prosecution Service repay his £130,000 legal expenses after he was cleared of a string of sex offences.
In an interview with the Mail On Sunday, the former deputy speaker in the House of Commons said that he contemplated suicide during the "very darkest moments" of his 11-month ordeal, which he described as a witch-hunt and "a very public execution attempt".
The 56-year-old called for a review of laws that grant anonymity to alleged victims of sex crimes, which he said were "unbalanced", and questioned the way the CPS had handled recent cases of historic sexual allegations against high-profile people.
He said: "I feel cheated by the fact that if my seven accusers and I walked down the street none of them would be recognised but I would be because I was the only one who was named. And I have been cleared, while their allegations have been shown to be false."
Speaking of the impact fighting the case had on him, Mr Evans told the newspaper the legal battle had cost him his £130,000 life savings, saying: "Every penny is gone, in addition to the £30,000-a-year additional parliamentary salary I was paid as Deputy Speaker."
He added: "If someone is dragged through the courts through no fault of their own and is acquitted they should get their legal fees back from the CPS budget.
"Maybe that will make them focus on whether a case is worth pursuing."
Mr Evans said there should be consideration given to banning prosecutions of "historic" alleged crimes, or a time limit, saying: "We need to consider the issue of a statute of limitations and look at how other countries deal with this."
He also called for an end to the "bundling" of cases, in which weaker allegations are considered together to build a stronger case, and said the CPS should have to meet a higher threshold in its likelihood of securing a conviction before it can bring a prosecution.
The MP for Ribble Valley questioned the CPS's management of high-profile cases. "It is always said that no one should get special treatment in these cases," he said.
"But the fact is that people in the public limelight are getting special treatment - the wrong type. People in the limelight have been made victims."
Mr Evans said he could not have got through his ordeal without the support of friends - including Coronation Street star Bill Roache, who himself was cleared of a number of sex offences earlier this year.
He said that Roache, a long-standing friend, had texted him his delight after the news of his acquittal on Thursday, and he now plans to enjoy a toast with him in the House of Commons to celebrate.
He told the Sunday Mirror: "Without my friends being there for me and giving me hope I would have been a broken man... you get the strength from people believing in you and giving you the support you need."
Mr Evans has now said he is determined to stay on as an MP and fight for his Lancashire seat at the next Election, but he said he will not ask to be returned to his old position as deputy speaker, telling the Mail on Sunday he wouldn't ask his successor Eleanor Laing to stand down.
Related