A committee of MPs has called for an investigation into the way prosecutors handle high-profile cases involving alleged sex offences following the acquittal of former Commons deputy speaker Nigel Evans on a string of charges.
Keith Vaz, the chairman of the Commons Home Affairs Committee, has written to the HM Crown Prosecution Service Inspectorate's chief inspector, Michael Fuller, urging him to examine whether the Crown Prosecution Service's (CPS) procedures were "sufficiently robust".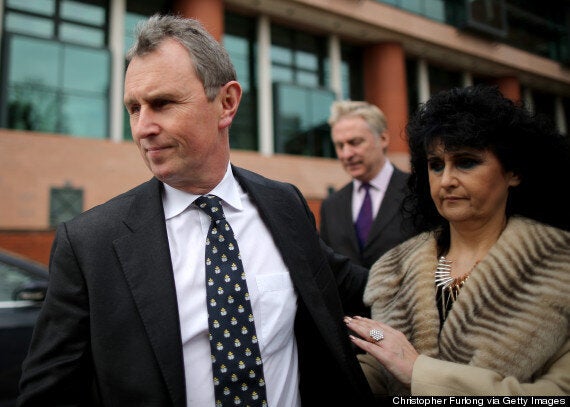 Nigel Evans described the court case as being hit by an Eddie Stobart truck
Following Mr Evans's acquittal last week at Preston Crown Court, a series of Conservative MPs expressed concern at the way charges had been brought in a number of high profile cases, including those of Coronation Street stars Bill Roache and Michael Le Vell who were both also cleared.
In his letter to Mr Fuller, Mr Vaz asked him to look into whether the CPS had followed due process in deciding whether to bring prosecutions, whether there was sufficient evidence to bring charges, and whether the procedures in such cases needed to be amended.
"Politicians should not become involved in the operational decision-making of the CPS. It is vital, however, that the processes followed by the CPS are correct and robust," Mr Vaz said.
"Nigel Evans has asked that the committee look at this issue and I have written to Mr Fuller to request he investigate whether we need to make changes to the system. We await his response with interest.
"The balance must be struck so that the public remains fully confident that those who are guilty will be brought to justice, but also that those who are innocent are not unnecessarily punished."
Mr Evans said that he now intends to use his position in Parliament to campaign on behalf of people who suffer injustices at the hands of the legal system.
"The fact is that I now have an opportunity to speak out where injustices do occur. I have got a voice and there are a lot of people out there who have been equally through the mill like I have who haven't got that voice," he told the BBC Radio 4 Today programme.
"It's not going to help me, but I do believe that people who are wrongly accused, who then are dragged through the mill, they need proper representation and, at the end of it all, when they're acquitted they're told 'You're not going to get a single penny back', that has got to be wrong."
"Absolutely," he answered. "If the prosecution have got the top person they could possibly get then you have got to be able to defend yourself properly and that costs money."
He has also asked the Home Affairs Committee to look again at whether the law which allows people charged with sex offences to be named while their accusers remain anonymous should be changed.
"I was put into the full glare of world publicity from day one, when the police knocked at the door; as soon as I left the police station there were photographers there, I was eight minutes every half hour on rolling news," he said.
"And yet the people who have thrown the mud, my accusers, remain completely anonymous. This is something that needs to be looked at."
Mr Evans, who was cleared of nine offences against seven men, said he could see "through the prism of having gone through sheer hell for 11 months" as he admitted he contemplated suicide "at the darkest, most loneliest moment".
Asked whether he contemplated suicide, Mr Evans said: "Yes, in the early days. At the darkest, most loneliest moment you think 'My god, there is only thing worse and that's being accused of murder'.
"It was only because of the friends who had faith and hope in me that kept me absolutely solid."
Following the verdict on Thursday, the Ribble Valley MP he said he had gone through "11 months of hell" and that "nothing will ever be the same again".
He was unanimously found not guilty of one count of rape, five sexual assaults, one attempted sexual assault and two indecent assaults.
The Director of Public Prosecutions, Alison Saunders, has defended the decision to prosecute Mr Evans after his trial heard that three of his seven alleged victims did not consider an offence had been committed against them.
Mr Evans said he had received more than 1,000 messages of support and he was "heartened" by prime minister David Cameron's remarks after the verdict, in which he hinted that the MP will be brought back into the Tory fold.
Popular in the Community