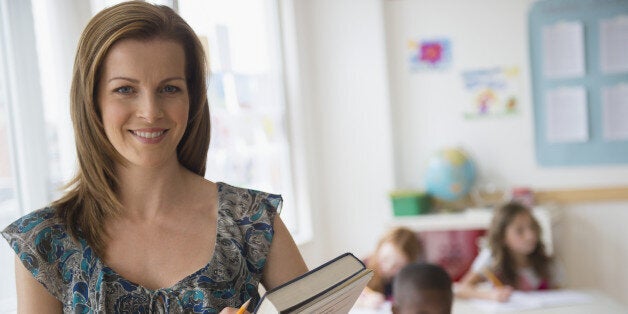 There is currently a growing demand for teachers in this country, particularly within inner city schools. Once employed, newly qualified teachers earn a minimum of £21.8K (£27.3K for inner London) with the government planning to introduce £70K salaries for top performing teachers.
Sound good? Then read on..
There are plenty of opportunities to progress teaching careers either within the classroom or in a leadership role - and teachers are twice as likely to be in a management position as graduates in other careers after three and a half years on the job.
Make sure to check out the rest of our advice, tips and information on Skills Space.
We spoke to one of the UK's most experienced educational professionals Liz George. With a career spanning more than 35 years, she's been a Primary Advisory Teacher, a lecturer on teaching training at Goldsmiths, and a consultant for Channel 4's educational TV shows.
So she's pretty qualified to dole out advice.
Here are her five tips for graduates considering a career in teaching:
1: Check you have the right qualifications
To become a teacher, the following qualifications are required:
- A degree, usually class 2:2 or higher, awarded by a UK university or recognised equivalent qualification.
- GCSE English and Maths (or equivalent) at grade C or above
- GCSE Science (or equivalent) at grade C or above if you are applying to teach Primary
- You must have passed the Professional Skills tests in numeracy and literacy. There's more info here.
2: Get some classroom experience
Teaching is a demanding yet highly rewarding profession so it's a good idea to get some classroom experience to ensure this is the right career choice for you. Contact several schools in your area to find out where you can volunteer as there may be a waiting list.
You'll be able to find out which age group and which subjects you'd like to teach as well as meet other teachers. Plus, you may discover long-forgotten skills or interests such as playing an instrument, doing drama or playing hockey, all of which will increase your employability.
3: Choose the right training route for you
There are essentially two paths to becoming a teacher, both of which take one year to complete
- PGCE (Post Graduate Certificate in Education) from a university or SCITT (School Centred Initial Teacher Training
- School Direct - school-led teacher training route with 'on the job' training, Successful School Direct trainees will gain Qualified Teacher Status with the option to achieve a postgraduate certificate in education (PGCE) worth 60 M level credits
4: Research your training provider
UCAS provides basic information on how to become a teacher and it is worth spending time researching where exactly you want to train, bearing in mind what will work best with your family commitments. You may be able to find one close to your home, childcare facilities or your child's school. Hours required for lectures can also vary so its best get in touch directly with providers for more in-depth course details.
5: Take care writing your personal statement
When completing your application, this is the most important section to spend time on as it's your opportunity to stand out and shine above other applicants. The best statements are usually those that honestly express why teaching is the preferred career choice, supported by classroom experiences that show what you've learned.
Liz is also course director at ldbsSCITT, a dedicated, school-centred teacher training institution located in the heart of London with 100% graduate employment rate.