Kroos, 24, played against United in both quarter-final legs of Bayern's Champions League triumph and has been watched twice by United manager David Moyes this season.
Bayern strengthened their midfield on Monday with the signing of Sebastian Rode from Eintracht Frankfurt on a four-year deal, which could pave the way for Kroos' departure. Bastian Schweinsteiger, Javier Martínez, Thiago Alcântara and Philipp Lahm make up Bayern's enviable array of midfielders, along with Kroos.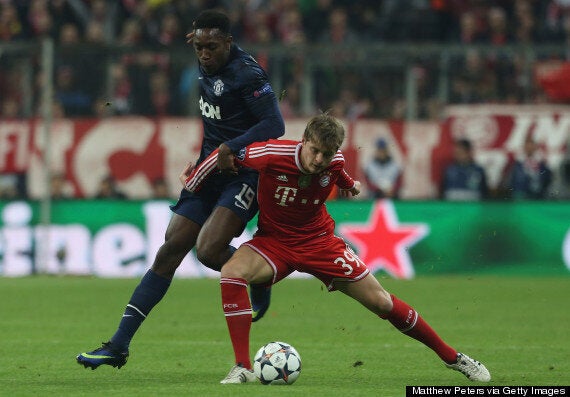 Kroos faced United twice in the Champions League recently
The astronomical weekly figure United have supposedly offered the German highlights the club's sudden eagerness to target outstanding foreign players as they prepare themselves for a season without Champions League football. United are seven points adrift of fourth-placed Arsenal with just five Barclays Premier League games remaining.
By gifting Wayne Rooney a £300,000-a-week five-year contract in February, United have set a potentially hazardous precedent ahead of the summer transfer window, when their spending is expected to pass the £100 million mark.
Under Sir Alex Ferguson, the Reds traditionally paid high fees for English-based players, such as Rio Ferdinand, Wayne Rooney, Dimitar Berbatov, Robin van Persie. That trend continued under Moyes with the acquisitions of Marouane Fellaini and, most recently, Juan Mata.
Toni Kroos
Ferguson struggled to recruit proven quality players on the continent, with a few exceptions. Fabien Barthez joined from Monaco after France's Euro 2000 triumph, while Ruud van Nistelrooy and Juan Sebastián Verón both arrived for a combined £47.1m in 2001, yet Patrick Kluivert, Ronaldinho, David Silva, Karim Benzema, Mesut Özil and Wesley Sneijder headline a starry list of players United missed out on.
Moyes has belatedly recognised the squad he inherited requires an overhaul this summer, but with his own future in doubt he might not get the chance to manage Kroos.