After his first defeat as Manchester United manager on 1 September, David Moyes nestled into his seat in the Anfield press room and was asked for his thoughts. United had still not strengthened their underwhelming squad with 24 hours remaining of the transfer window and had earlier that week hosted Chelsea in a prosaic goalless draw. "I could see why we were champions today," Moyes proclaimed following Liverpool's 1-0 win. He was "more than happy. After that performance, I wouldn't be worried." He should have been.
Harry Callahan once remarked, "A man's got to know his limitations," and, judging by his 11 years at Everton, Moyes knew them. But Sir Alex Ferguson didn't. Moyes' anointment was a case of blinkered, idealistic romanticism and it should concern Manchester United supporters Ryan Giggs is under consideration to replace him. It would follow a disastrous trend.
Contrary to popular belief, United are a sacking club, they just haven't had to consider a manager's future since a seminal FA Cup third round tie at Nottingham Forest in 1990. Wilf McGuinness and Frank O'Farrell - the first two managers in Sir Matt Busby's shadow - were both sacked in the early 70s. Tommy Docherty was fired for having an affair with club physio Laurie Brown's wife in 1977, Dave Sexton lost his job in 1981 and so did Ron Atkinson in 1986. That Moyes' contract included a clause in which he would receive just a year's compensation highlighted a sense of scepticism within the Old Trafford corridors, and the Scot will earn £4.5 million for overseeing United's worst season in 25 years.
Ferguson's selection of Moyes is akin to Ed Miliband's ascension to Labour Party leader, insomuch as, somehow, the unfashionable, inferior option usurps the rightful heir thanks to a socialist influence. Moyes' appointment did not generate outrage thanks only to Ferguson's aura, yet both Scots' reputations are blemished after nine catastrophic months in which United have lurched from one crisis to another.
Doubts over Moyes intensified as soon as he held court with the media in early July. Asked to recount the events leading up to his meeting at Ferguson's Wilmslow home, it was clear he was a man in thrall of his predecessor.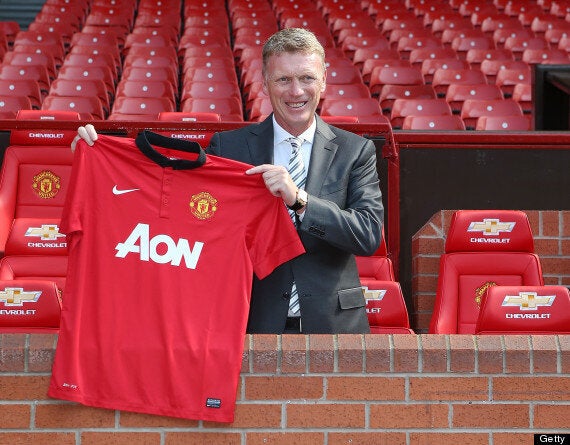 Ten years younger: Moyes is unveiled as United's new manager back in July
"I was actually out with my wife... and the phone rang and it was Sir Alex. He says: 'Where are you?' I says: 'I'm out with my wife,' and he says: 'Can you drop over to the house?' I was having some lunch and said: 'Oh definitely, sure.'
"So I says to the wife: 'Oh no, what is it he wants? It's either he wants me to take somebody on loan, or he's come to buy one of my players.' And I had my jeans on and my T‑shirt. I said: 'I'll have to drive over and get changed.' But I'm thinking there wouldn't be time.
"So I had to drop my wife at the shopping centre in Cheadle and I'm saying to myself: 'I'd never ever go to a meeting with Sir Alex with a pair of jeans on.' I'm saying: 'I can't do this!' So that shows how little I knew about it.
"He took me in, took me up the stairs, made me a cup of tea and came out with it. It's a moment I'll never forget."
United supporters expected a squad overhaul. Ferguson's last two titles - in 2011 and 2013 - were owed more to his wily genius than the quality of the United teams. They finished the 2010-11 campaign as champions with just 80 points and five away wins, while two years later Mario Balotelli and Roberto Mancini helped dismantle Manchester City's defence of their title before the daffodils had started to grow.
Yet the revamp never happened.
United had bids rejected for Daniele de Rossi, Sami Khedira and Ander Herrera on deadline day before they signed Marouane Fellaini for £4.5 million more than necessary. Moyes wanted to bring the Belgian and Leighton Baines to United in a joint deal, as Everton were offered an "insulting" £28m. United had wasted time with such frivolous bids and the jaunt down the garden path trailing Cesc Fàbregas. "I'm happy to go with what we've got," Moyes assured the media after the Community Shield win. He wasn't.
Remarkably, Moyes has not displayed a shred of evidence to suggest he was worthy of managing United and has instead spoken like a defeatist, seventh-placed coach. "I couldn't fault how we played," he said after Sunday's 2-0 away surrender at Everton in which United had two shots on target. His season is peppered with surreally positive quotes in defeat. "I don't know what we have to do to win," he lamented following Stoke City's 2-1 win over United in February.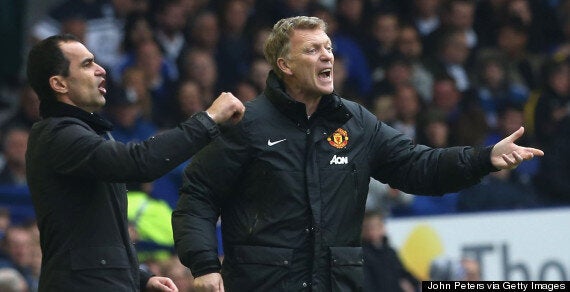 Moyes' United tenure came to a humiliating end at former club Everton on Sunday
Last month, he uttered blasphemy when he described Liverpool as the "favourites" ahead of their trip to United. "I would never say that at Liverpool – even if I was bottom of the league," Brendan Rodgers, responded. In December, Moyes said: "They are coming to Old Trafford and we are going to make it as difficult for them as we possibly can." He was talking about Newcastle United, who Ferguson dismissed as a "wee club" last season.
Moyes would seldom go a press conference or interview without saying "try". He did not boast the chutzpah of Docherty or Atkinson, let alone Ferguson, and offered limp soundbites which depicted United as plucky underdogs. Following United's ejection from the Champions League, Moyes remarked the players had "really enjoyed it". He hit all the wrong notes.
Moyes' indulgence of Wayne Rooney was ill-advised, too. Ferguson ostensibly played Moyes a hospital pass last summer when he had actually left it to his successor to dot the "i"s and cross the "t"s ahead of Rooney's transfer. It explains why Robin van Persie and Shinji Kagawa, competitors for Rooney's role, arrived in 2012, yet Rooney received a five-year £300,000-a-week contract in February while Moyes has alienated, or infuriated, the club's other strikers.
Kagawa and Van Persie could leave this summer and Danny Welbeck, like Javier Hernández, wants to leave United, although that could now change. Rooney has enjoyed a mini-resurgence this term, and Moyes deserves credit for overseeing it, yet even that personal achievement is tainted by his failure to abide by Ferguson's thinly-veiled instructions to sell the Croxteth striker. Results suggest United are more reliant on Van Persie.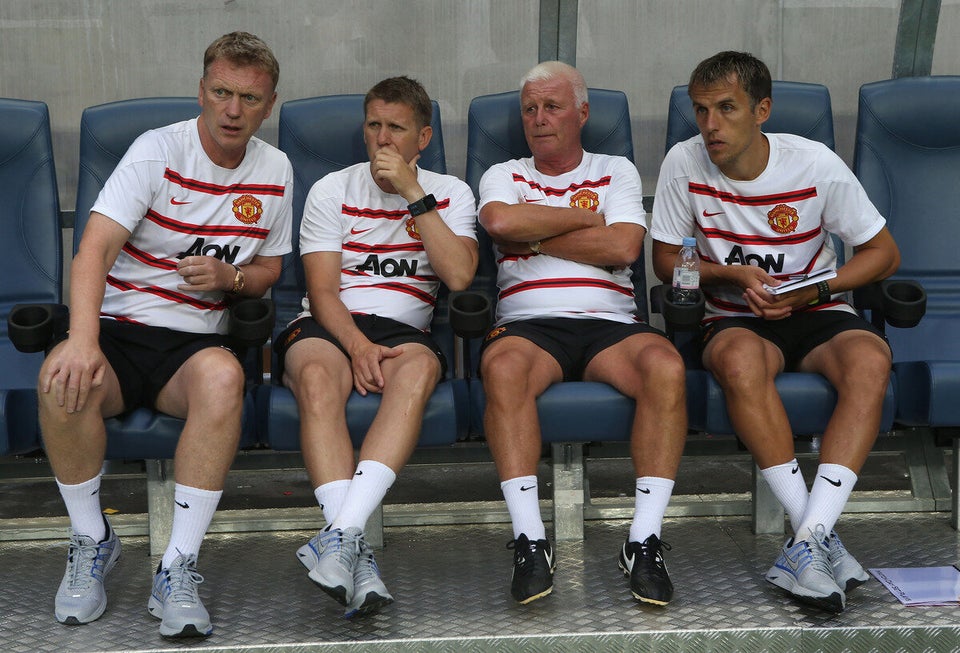 David Moyes looking lost
The Glazers simply cannot entrust a manager who has spent more in one season than Ferguson ever did with an additional £200m. In December, Moyes dashed speculation United would sign Ross Barkley because they already had a No.10 in Rooney, yet a month later Juan Mata arrived for a club-record £37.1m. Rooney's contract extension the following month meant United had invested over £100m in two players who prefer to play off the striker, which suggested Moyes did not have his budget under control.
Moyes rightly identified midfield as United's weakest area, but signing a midfielder who used to play for him has reflected horrendously on him. Marouane Fellaini has experienced his worst season in England and did not even start ahead of the shambolic Darren Fletcher at Goodison Park on Sunday, despite a 15-day rest. The squad needs at least six quality players to challenge for the league again next season.
Moyes had the gall to question the strength of what he had inherited, too. "I actually think if Sir Alex was here this year it would be difficult for Sir Alex as well, and I'm sure he'd be aware of it." Ferguson, who has largely kept his counsel on Moyes, did not appreciate that and was even abused when United lost 3-0 to Manchester City in March for installing Moyes as manager. United will become the first team to drop from first to seventh in successive seasons since Blackburn Rovers' decline under Ray Harford in the mid-90s.
The turning point in Moyes' premiership came with the 2-0 defeat at Olympiakos, the weakest of the 16 teams remaining in the Champions League, in February. United had not played that badly since the infamous 1-0 defeat at Lille in 2005, and their recovery in the second leg was merely a stay of execution.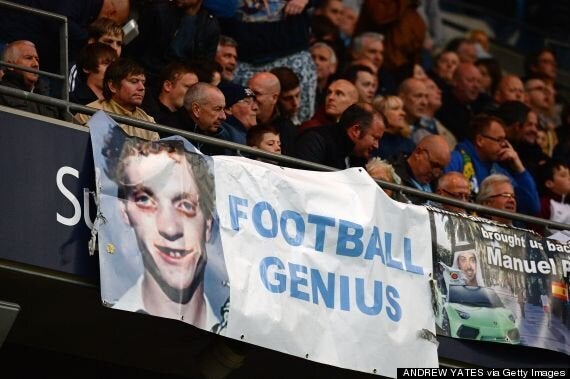 Manchester City fans are keen for Moyes to remain in charge at Old Trafford
However, sacking Moyes would have been logical in December, when United's season was still salvageable. The Stretford End has not witnessed such an insipid and uninspiring style of football since Ferguson's at times torturous 1989-90 season, when just 29,281 witnessed Wimbledon record a 0-0 draw at Old Trafford.
After United drew level for a second time at Tottenham in December, Patrice Evra - arguably United's biggest set-piece threat - jogged forward for a corner. Moyes' first-team coach Phil Neville burst out of his seat and screamed at Evra to get back to the halfway line. One United coach's son allegedly said his dad would not follow Moyes across the East Lancs Road because he "hates" United. It was not unusual for a new manager to bring his trusted backroom staff to a new club, but United's players were bound to have reservations about a set of trainers with no winning pedigree. That picture of Steve Round's set-piece portfolio at Goodison Park resembled a teenager's GCSE coursework.
Rio Ferdinand, a six-time title winner, was supposedly told to model his game on Everton centre-back Phil Jagielka, who has won nothing. It maybe explains why Ferdinand was unconcerned about airing his grievances over Moyes' selection policy or posting cryptic tweets.
Several players undermined Moyes, publicly or privately. Robin van Persie's stage-managed pledge he would stay at United in March smacked of a club desperate to divert attention away from the bellowing fire, one player leaked the first-team line-up for the win at Aston Villa in December and was reprimanded, yet the first XI for Bayern Munich's visit was correctly posted online hours before kick-off. Even Anderson, one of the most unprofessional footballers to have played for United in recent times, lobbed a barb from Florence.
Moyes has not even lasted as long as McGuinness did when he succeeded Sir Matt Busby in 1969, yet he should never have had the chance to warm the manager's seat in Old Trafford's home dugout. The mess United are in is as much down to Ferguson as Moyes.
Popular in the Community