Rates of malignant melanoma, the most dangerous form of skin cancer, are five times higher in the UK than they were in the 1970s, new figures show.
More than 13,000 people are now developing the disease each year compared about 1,800 in 1975.
Incidence rate has shot up from just over three per 100,000 of the population 40 years ago to around 17 per 100,000.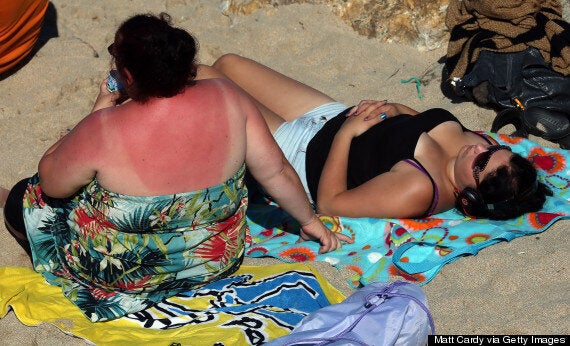 People sunbathe on Fistral Beach in Newquay, Cornwall
The dramatic rise is partly down to the huge increase in package holidays to sunny European destinations, a boom in sunbed use, and the fashion for a "healthy" tan, according to Cancer Research UK which released the figures.
Malignant melanoma is now the fifth most common cancer in the UK and more than 2,000 people die from the disease each year.
Sunburn is known to increase the risk of skin cancer, especially in people with pale skin or large numbers of moles or freckles.
Nick Ormiston-Smith, head of statistics at Cancer Research UK, said: "Since the mid-1970s, malignant melanoma incidence rates in the UK have increased more rapidly than any of today's 10 most common cancers.
"Holidays in hot climates have become more affordable and sunbeds are more widely available since the 1970s. But we know over-exposure to UV (ultraviolet) rays from the sun or sunbeds is the main cause of skin cancer. This means, in many cases, the disease can be prevented, and is why it's essential to get into good sun safety habits, whether at home or abroad.
"The good news for those that are diagnosed, is that survival for the disease is amongst the highest for any cancer; more than eight in 10 people will now survive it."
Cancer Research UK is campaigning for the third year to encourage people to enjoy the sun safely, in partnership with Nivea Sun.
The campaign provides simple guidelines aimed at helping people protect their skin this summer.
Besides avoiding sunburn, other advice includes spending time in the shade, covering up and using a minimum factor 15 sunscreen.
Red haired and fair skinned mother-of-two Amanda Crosland, 43, from Leeds was diagnosed with malignant melanoma in 2001, despite covering up in the sun.
She said: "When I noticed a new mole on my left calf, I knew it was safest to get it checked out by the doctor. Spotting it early meant I had a successful operation to remove the cancer before it spread.
"I've always been careful to look after my skin, but I do remember getting sunburnt as a girl. I still enjoy getting out in the sun, but now make sure the kids and I are properly protected: hats, T-shirts, and sunscreen, so we can enjoy the sun safely in the garden or at the beach. All you need is a bit of common sense."
Caroline Cerny, senior health campaigns manager at Cancer Research UK, said: "Everyone loves getting out and about and enjoying the summer sun. It's essential to take care not to burn - sunburn is a clear sign that the DNA in your skin cells has been damaged and, over time, this can lead to skin cancer.
"When the sun is strong, pop on a t-shirt, spend some time in the shade and use a sunscreen with at least SPF15 and good UVA protection."
Related