A Saudi Arabian prince has reportedly hunted and killed 2,100 internationally protected houbara bustards in a 21-day hunting safari in Pakistan.
The prince himself is said to be responsible for the deaths of 1,977 birds, which conservationists warn are on the brink of extinction, while his entourage are claimed to have killed a further 123.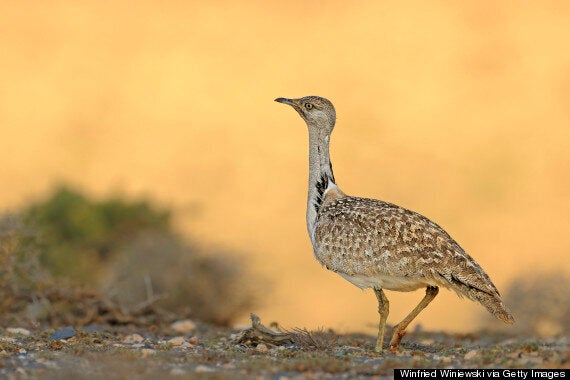 The endangered houbara bustard migrates from from central Asia to Pakistan during winter
The birds are globally protected under the Convention on International Trade in Endangered Species.
But the newspaper notes the country's federal government has issued special permits to Gulf States royals in the past.
These permits usually allow holders to hunt up to 100 houbara bustards in 10 days in allocated areas, excluding reserved and protected areas.
The prince reportedly violated the permit by conducting parts of his hunt in reserved and protected areas and allegedly killing hundreds more than the set limits.
The flesh of the bird, which migrates each winter from central Asia to Pakistan, is believed by some to have aphrodisiac qualities.
"If it's illegal for Pakistanis to kill these birds why should the Arab sheikhs be allowed to do it?"
After this year's annual killing season ended in early February, Pakistan's Lahore high court slapped an interim ban on hunting in Punjab province.