A Nigerian asylum seeker is pleading with the government to let her stay in Britain, claiming her abusive husband will taking their two little daughters to have their genitals mutilated if she is sent back to Lagos.
More than 86,000 people have backed a petition on Change.org to keep Afusat Saliu in the UK, where she fled from Nigeria after her family told her of imminent plans to take her toddler and then-unborn daughter to have their genitals cut.
"I am scared as I know what it's like," Saliu told HuffPost UK. "As a woman, you just do not have a say whether it is done to you or not."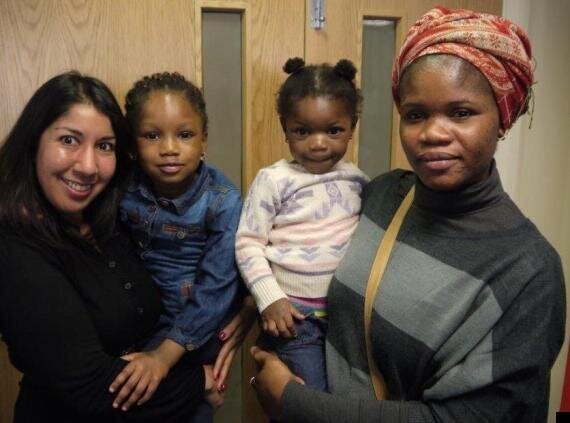 Anj Handa, with Afusat Saliu and her two daughters Bassy and Rasidat
"My family told me I should not try to change things, just like that. Nobody protected me from FGM, I must protect my daughters."
The campaign to help Saliu and her daughters was started by her friend Anj Handa, the director of social welfare organisation People Help People, who has been rallying politicians and lawyers to the cause.
The pair met at Leeds' Refugee Council, and Handa said she was struck by Saliu's "strength, determination, despite having clinical depression and going through such hardship, she knew she had to keep going for her daughters."
But Saliu's case has "no merit" according to the Home Office, and she has been denied an appeal in the UK, and ordered to return to Nigeria, despite fresh evidence of the risk of harm to her daughters being submitted to the Home Office a fortnight ago. Saliu must now leave the country by Friday or face forcible deportation.
"It suits the system to dehumanise – if not more palatable, it makes the general public think of just another number, rather than a human being with the same hopes, dreams and needs as you or I," Handa said, writing in a blog for HuffPost UK.
Saliu, who fled while pregnant with now two-year-old daughter Rasidat, along with her toddler daughter Bassy, now four, underwent a traumatic mutilation herself, and was married by her family to a man 40 years her senior. The birth of Rasidat, after she was taken in by a women's shelter in London, was particularly traumatic because she had been cut, she said.
Now living in Leeds, she is barred from working in the UK, or even doing unpaid work, but has volunteered with student midwives to teach them to recognise the signs of FGM.
"Leeds is my home now and my children have grown up here. It is very difficult for me knowing I may have to leave," Saliu told HuffPost UK.
"I know what a massive contribution Afusat makes through volunteering, I also know that her girls know nothing about Nigeria," Handa added. "They're little Leeds lasses, Yorkshire accent and all. I personally can't bear thinking of the risk of those perfect little bodies being mutilated, but it's a gamble that our government seems willing to take. What was that again about 'Every Child Matters?'."
Leeds MP Greg Mulholland has backed an investigation into Saliu's case, and she has also received support from anti-FGM campaigner Leyla Hussein.
"I was very concerned to hear about the treatment that Ms Saliu has received from the Home Office," Mullholland said in a statement to HuffPost UK.
"I have written to the UKBA and requested that they urgently investigate Ms Saliu's case and ensure that the deportation is put on hold until the matter has been thoroughly looked at again and to allow Afusat and her supporters to submit fresh evidence about the problems she and her children would face if they are returned to Nigeria.
"It is extremely worrying that the Home Office are trying to deport her to Nigeria, despite the threat of violence she faces, and the threat of FGM to her two young daughters, which sadly Afusat has already been a victim of."
A Home Office spokesperson said it could not comment on individual cases but said: "The UK has a proud history of granting asylum to those who need our protection and we consider every claim for asylum on its individual merits.
"We believe that those who fail to establish a genuine fear of persecution should return home voluntarily. If they do not, we will enforce their removal."