'EastEnders' newcomer Lee Carter (Danny-Boy Hatchard) has only just arrived on the Square, but he's already landed himself in the middle of Walford's biggest ever murder investigation, as police are targeting him in their investigation into Lucy Beale's death.
The youngster spent the night with Lucy (Hetti Bywater) before her tragic death, making him suspect number one.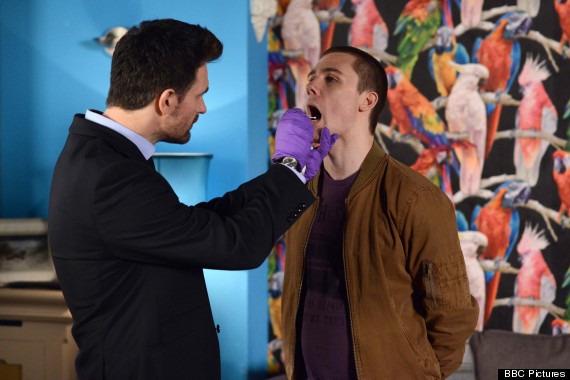 Police collect a DNA sample
As if being a murder suspect wasn't enough of a problem, Lee now has to head back to the Army, giving a DNA sample and his clothing from the night of Lucy's death to the cops just before he leaves.
While Lee protests his innocence, his family are left shocked when he lies and claims to have been at the housewarming party all night.
Could he really be the killer?
Fans have plenty of time to try and work out who's guilty, as the murderer's identity won't actually be revealed until February 2015.
The show's cast have already given their opinions on the murder and we've also had a go at guessing who's responsible.
The Beale family have struggled to cope with their sudden loss and Ian Beale (Adam Woodyatt) has even been comforted by his sworn enemy Phil Mitchell (Steve McFadden). Lucy's funeral scenes are set to air in May.
Watch 'EastEnders' on Friday 25 April to see these events unfold.
LIKE US ON FACEBOOK | FOLLOW US ON TWITTER