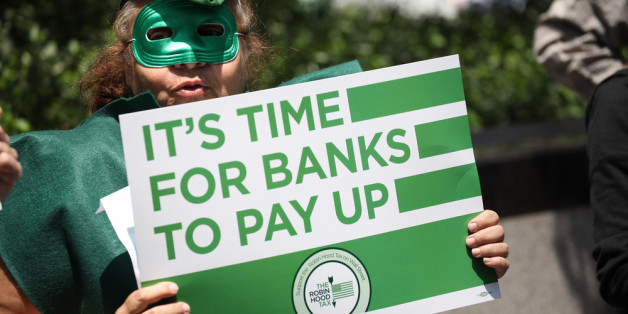 Neilson Barnard via Getty Images
George Osborne's bid to protect UK banks from an EU tax on their financial transactions is set for defeat in the European Union's top court.
The European Court of Justice will announce its judgement on Britain's legal challenge next Wednesday to the financial transactions tax, better known as the "Robin Hood" tax or the "Tobin" tax.
The Open Europe think-tank estimates that there is a 80-90% likelihood that Osborne's legal challenge will be thrown out.
The Robin Hood tax would be set at a rate on financial transactions at about 0.05%, and campaigners estimate that it could raise $400 billion (£238 billion).
The tax will only apply to institutions based in 11 eurozone member states, but there are fears that the City of London would be hit in a knock-on effect if it was implemented.
The Chancellor's spokesman told the Financial Times that the government would still challenge the European courts' decision if it was defeated. "We are confident we will be able to get an outcome which would protect the single market and non-participating member states," he said.
In February, HuffPostUK revealed that Osborne had spent over £20,000 on fighting the EU bank bonus cap.
The government justified its legal challenge as it argued the EU bank bonus cap, which came into force this January, would end up making the finance sector more risky.
Here are ten attacks George Osborne once made on the excess of bankers' bonuses