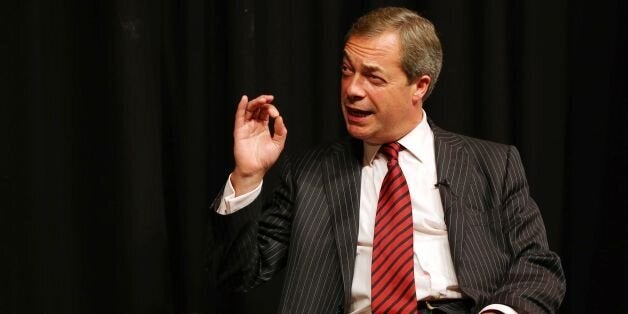 The Ukip leader acknowledged that "something went wrong" and an internal investigation had been launched to find out how the party failed to spot the offensive Twitter messages posted by Andre Lampitt.
Lampitt, wearing a builder's hard hat, appeared in a Ukip film shown to TV viewers, complaining that "since the lads from Eastern Europe" had arrived in the UK and undercut him, he had found it a "real struggle" to provide for his family.
But after being made aware of posts he previously made on Twitter, officials acted swiftly against Lampitt - who is seeking to become a local councillor in Merton, south London.
Asked about Lampitt's comments, Farage said: "Repellent was the word we used, and I will stick with that. We have got the European elections happening, we have also got local elections and we have got 2,234 candidates standing for Ukip.
"It's our biggest ever push in local elections. We have put in place a vetting procedure and something has gone wrong."
Pressed on whether he viewed Lampitt's comments as racist, Farage told BBC Breakfast: "I think they probably are, yes."
He added: "Someone has made a mistake, so I'm going to have an investigation into this and somebody must be disciplined for this."
Farage has previously pledged to root out individuals guilty of "real extremism and nastiness" in the party - which is coming under intense scrutiny ahead of the May 22 elections where it is tipped to top the national poll.
He said: "We haven't got a monopoly on stupidity or on people saying repellent things, but obviously, given the criticism we faced last year, we have put measures in place and a mistake's happened and I'm sorry about it. But one individual is not going to stop a national campaign."
Lampitt's postings included references to Islam as a "pathetic Satanic religion", a desire to create a website named Islamoutofuk.co.uk and a claim that "most Nigerians are generally bad people".
He also claimed, in a string of posts over several months, that Ed Miliband was "not a real Brit... He was only born here" and suggested the Labour leader was Polish.
In the party election broadcast, Lampitt appears in a T-shirt bearing the logo of his home renovation, carpentry and electrical firm Kamina Kawena Services.
He told voters: "Since the lads from Eastern Europe were prepared to work for a lot less than anyone else I have found it a real struggle, it is getting hard to provide for my family."
Before the account was taken offline, he described himself on Twitter as: "Born British in Rhodesia and proud of heritage sad at how Britain is run."
Election nominations closed yesterday and Farage acknowledged that the party was powerless to stop Mr Lampitt standing.
Farage said: "Once the nominations are in, you can't stop people standing, so he will stand. But he is not the Ukip candidate."