Update: 19:11, 29 April 2014 with confirmation Mr Mercer has left parliament
Update: 21:00, 29 April 2014 with comments and details on Nigel Farage
Disgraced former Tory Patrick Mercer admitted he was "ashamed" as he announced his intention to quit Parliament immediately over a cash-for-questions scandal.
The contrite ex-minister said he believed he had to "fess up and get on with it" after a sleaze watchdog earlier agreed plans to suspend him from the House of Commons for six months.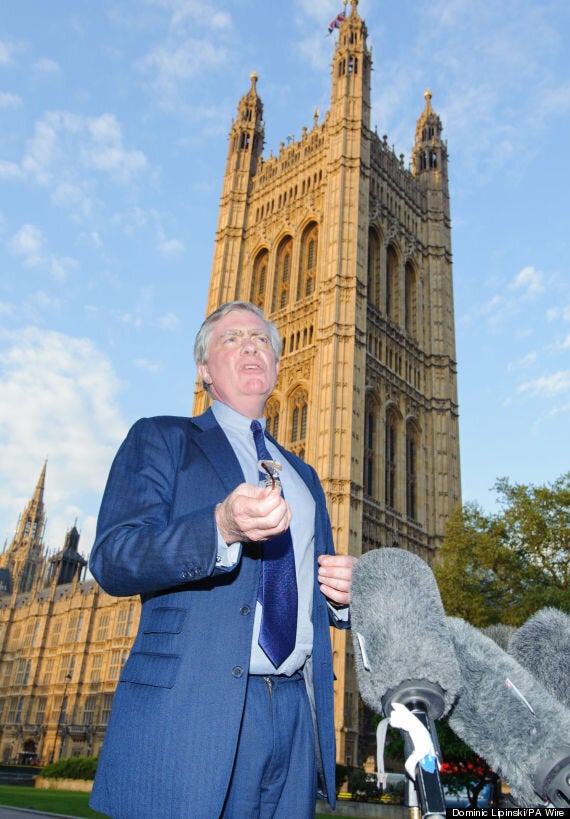 Patrick Mercer said he was 'ashamed' of his behaviour
The former army colonel's decision to quit sparks a by-election in his Newark seat, which will cause a headache for Prime Minister David Cameron - particularly if Ukip leader Nigel Farage decides to stand.
Speaking to reporters in Westminster, Mr Mercer said: "As an ex-soldier I believe that when I have got something wrong you have got to fess up and get on with it.
"No point in shilly shallying and trying to avoid it. What's happened has happened and I'm ashamed of it."
Mr Mercer said he was going to do what he could to "put it right" for the people of Newark and for his wife and family "who have been under such pressure for the last year".
He added: "With a great heaviness of heart - and I'm hoping that the people of Newark will be able to tolerate me in the future, I'm hoping that they will - I'm going to resign my seat of God's county of Nottinghamshire in the town of Newark and I hope that my successor, who has been well and carefully chosen, will be the Conservative candidate."
Mr Mercer resigned the Tory whip when the allegations emerged in May last year to ''save my party embarrassment'' and said at the time that he would quit the Commons at the 2015 general election.
The decision by the Commons Standards Committee to impose a six month suspension from Parliament prompted him to bring forward the date.
Although Mr Mercer held the Nottinghamshire seat with a Conservative majority of 16,152 in 2010, the by-election could provide an opportunity for Mr Farage to contest a Westminster seat to capitalise on his party's popularity.
A Ukip source said: "We are watching the situation with very close attention.
"If there is a by-election very soon after the European elections it would be quite a big deal, particularly if Ukip has given the Tories a bloody nose, we would want to run a serious and impressive candidate."
Councillor Stuart Wallace, chairman of Newark Conservative Association, quashed speculation that Mayor of London Boris Johnson could stand in the seat by announcing that Robert Jenrick had been selected as the Tory candidate.
He said: "The association wish to express our thanks for the work Patrick has done for Newark and for many of his constituents individually, over the last 13 years, both as a Conservative and as an Independent MP.
"Following Patrick's earlier decision not to stand again, we selected a superb candidate, Robert Jenrick, who has already been very active locally.
"The association are united in support for Robert and will be campaigning to ensure that he will be elected as Newark's next MP."
Mr Mercer served as shadow homeland security minister until 2007, stepping down after suggesting that racism was ''part and parcel'' of life in the forces.