A schoolboy will spend a third day being questioned by police over the fatal stabbing of a much-loved teacher in front of her pupils.
Spanish teacher Ann Maguire, 61, was just months away from retiring in September after working at Corpus Christi Catholic College in Leeds for more than 40 years.
The 15-year-old was detained by staff following the stabbing on Monday and arrested at the school.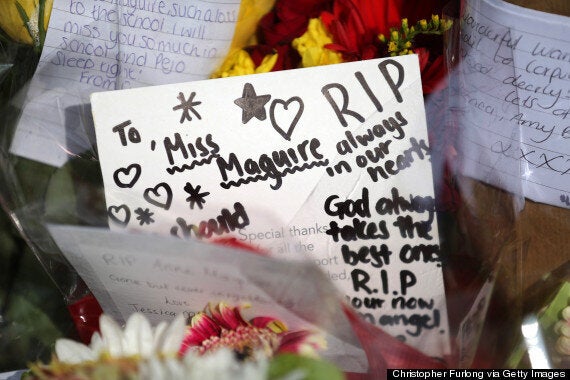 Tributes to teacher Anne Maguire adorn the school fence at Corpus Christi Catholic College in Neville Road
Detective Superintendent Simon Beldon, of West Yorkshire Police, said yesterday that it may take "some time" to question the teenager given his young age.
Meanwhile it has emerged that Mrs Maguire, who was described as a "wonderful, dedicated teacher" by the school's chairman of governors, raised her two nephews following the death of her sister, who was a single mother.
Mrs Maguire, who is understood to have two grown-up daughters of her own, brought up Andrew and Daniel from a young age after their mother Eileen Poole died from cancer.
"She had two daughters so her family doubled overnight. It must have been hard work for her with four kids, but she didn't bat an eyelid."
The killing of a teacher as she taught her normal Spanish class has prompted calls to look again at security in British schools.
Corpus Christi headteacher Steve Mort said his view was that scanning arches were not necessary and people had to remember this was an "isolated" and "unprecedented" incident.
"And I think ultimately Ann Maguire herself, if she was asked that question, would strongly oppose any suggestion that we should have metal detectors in this school," he said.
Mr Mort said he last spoke to Mrs Maguire on Monday morning after a staff briefing when she was her usual "bubbly" self.
"She was enjoying the latter end of her career although I know, to Ann, that her service to Corpus Christi was not a career," the headteacher said. "She considered it to be a vocation."
Around 750 of the 1,000 pupils turned up for lessons yesterday. All have been offered a range of support and Mr Mort said the 30 children who were closest to the incident have been intensively supported.
After returning to the school for the first day back since the tragedy, Tia Hope, 14, laid flowers with her mother Paula.
"It was just really depressing," she said. "It was like no one could believe it had actually happened."
Tia said the head brought the children together in an assembly and told them he was proud of how mature they had all been in the last 24 hours.
Her mother said: "Everyone's still just so shocked. Mrs Maguire was one of the best teachers. I really feel for her family."
Other youngsters outside the gates stopped to look at the hundreds of bouquets of flowers which are now spread along a 50-yard stretch of the school's railings.
They said the school was alive with chat about how the youth who attacked Mrs Maguire walked from the back of the class and produced a knife before stabbing her multiple times.
They said another female Spanish teacher went to her aid.
Mr Beldon confirmed that Mrs Maguire died from multiple stab wounds.
He said: "The pupils who witnessed this incident are still being interviewed by specialist officers who are very experienced in dealing with child witnesses and will ensure that their safety is paramount.
"This is clearly an unprecedented and tragic incident which has left the school and wider community in a state of shock."
Mrs Maguire's death is thought to be the first time a teacher has been stabbed to death in a British classroom, and the first killing of a teacher in a school since the 1996 Dunblane massacre.
Yesterday chairman of governors Martin Dowling said: "The children have been absolutely amazing this morning. We've had assemblies, services and the children have responded in a magnificent manner, as have the staff also."
He described her as a "wonderful, dedicated teacher".
Nigel Richardson, director of children's services at Leeds City Council, also paid tribute to Mrs Maguire.
He said: "Our thoughts and sympathies are with Ann's family, friends and colleagues at this difficult time.
"Ann was an amazing, inspirational teacher, and a pillar of the local community and a real asset to the city of Leeds."
Chief Inspector Nik Adams, who leads neighbourhood policing in the area, paid tribute to all the staff and pupils for coming in.
He said: "This is an horrific incident. It's unprecedented nationally but very much in this local community it's something which has caused a great deal of shock and distress, as you can imagine.
"This is very much an isolated incident. This is not part of a wider problem that exists locally here."
He said the school had been found to have "absolutely no issues in terms of weapons".
Mr Adams added that the incident was "in no way a reflection of either problems or concerns that exist in this school".
Mrs Maguire, who was head of Year 11 at the school for more than 10 years, lived in the Moortown area of Leeds with her husband Donald, who is believed to be a retired maths teacher.
Mary Bousted, general secretary of the Association of Teachers and Lecturers, said: "It is with deep sadness that I heard of the tragic death of Ann Maguire at Corpus Christi Catholic College in Leeds.
"Our deepest condolences are with Ann Maguire's family, friends and work colleagues, as well as the pupils at the school.
"We are shocked about the death of this dedicated and loved teacher.
"Teachers are doing vital and essential work with our children and young people every day, and they should not have to face verbal or physical violence. But we should remember that yesterday's events are extremely rare.
"When we learn more about the circumstances, it may be that there are lessons to be learned, but for now, pupils, staff and families need our support."