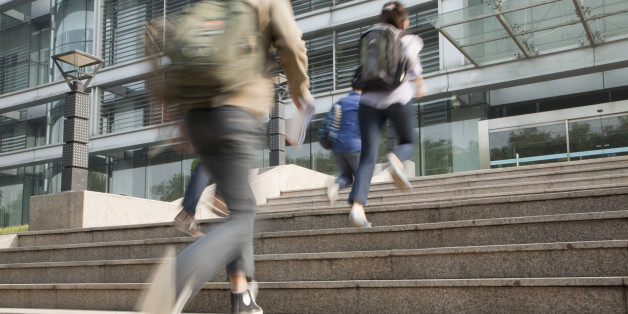 Blend Images - Jade via Getty Images
Universities should be ranked on the success of their poorer students in gaining professional jobs after graduating, a report has recommended.
Government policy has focused too narrowly on increasing the number of socially disadvantaged students in universities while neglecting to take into account how well they fare after leaving, a study has found.
The report for the CentreForum think-tank said students from poorer backgrounds often lacked social networks used by richer students to gain internships, training places and professional jobs after graduating.
Report author Professor Michael Brown, former vice chancellor of Liverpool John Moores University, said high-level skills training should be offered by universities in additional to traditional academic programmes.
He also called for a new index to be introduced - the Social Mobility Graduate Index (SMGI) - awarding points to universities according to the success of disadvantaged students in gaining professional jobs after graduating.
He said the additional resources required by universities to develop students from disadvantaged backgrounds should be marked by public praise, awards or additional funding.
The most academically selective institutions do not necessarily result in the best employment prospects for disadvantaged students, he warned.
The proposed index - which measures employment success six months after graduating - places UCL School of Pharmacy in London in first place for the success of less advantaged students in gaining jobs, with University College Plymouth, St Mark and St John in second place out of 153 higher education institutions.
Ravensbourne, in south-east London, University Campus Suffolk and Edge Hill University in Ormskirk, Lancashire, are ranked in third, fourth and fifth place respectively, using the index.
Oxford and Cambridge universities - where many students go on to do further study and are therefore not classified as having a professional job - rank low on the scorings with Cambridge placed 135th and Oxford in 152nd place.
"In terms of graduation performance and employment outcomes students from areas of high disadvantage have a lower success rate than those from more advantaged backgrounds," Prof Brown said in the report.
"And despite the political focus on access to Russell Group universities, the most selective institutions do not necessarily deliver the best professional graduate outcomes for disadvantaged students either. It is time to raise the game."