The Home Secretary has said that "a large number" of stop and searches by police only happen because the person being stopped is black.
In the most strident comments she has made on the disproportionality of the use of stop and search between people of different ethnicities, Theresa May said it was "absolutely disgraceful" and said many black and minority ethnic people felt being stopped had become "a way of life".
She told the House of Commons: "It is very clear that in a large number of cases the reasonable grounds for suspicion were not there and one can only therefore assume, given that black people are six times more likely to be stopped and searched than a white person, that it is precisely the fact that they are a black person that has led to that stop and search taking place.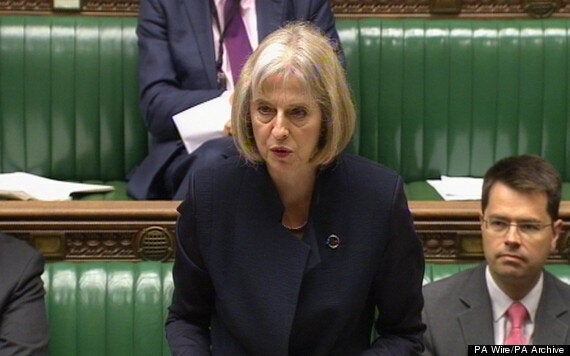 Theresa May said the disproportionate likelihood of black people being stopped and searched was 'absolutely disgraceful'
"It is absolutely disgraceful and sadly, as I indicated earlier in response to another MP, this is a feeling that has come through to young people in black and minority ethnic communities that this is what happens and that this is, if you like, a way of life.
"I want to change it and make sure it's not a way of life."
She was speaking as she announced a wide-scale review of the legal power and how police use it. New guidance will be issued and officers will be disciplined if they fail to use the power in accordance with it, she added.
The new training will include a module designed to stamp out 'unconscious bias' officers may have when selected whom to stop.
In a statement, campaign group StopWatch said: "StopWatch welcomes the Home Secretary's statement on the widespread misuse of police stop and search and the government's recognition of the need to address ethnic bias amongst officers in the use of their powers.
"StopWatch is disappointed that the package of reforms relies on voluntary cooperation; an approach that has failed in the past, from the Scarman to MacPherson report. Without proposals that have some teeth, minority communities will continue to experience policing that is neither fair nor effective."
A total of 27% of the stops did not have sufficient grounds to merit them.
Tory MP Charles Walker gave an example of one of his constituents who had been stopped 50 times between the ages of 13 and 18.
He said he would feel a sense of "total desolation and alienation" if that happened to one of his children.
He said: "That is just not a state of affairs that can continue. The last time he was stopped he was collecting some milk for his mum.
"Can I just say to you in welcoming this announcement that I do thank God it's not my children being stopped on a regular basis because I would have a sense of total desolation and alienation if that was happening to my children."