The government has suffered a major defeat over its cutting of legal aid with a "landmark" court ruling that was called for by David Cameron's own brother.
Alexander Cameron QC, succeeded in having a fraud trial thrown out because legal aid cuts have led to a lack of competent barristers.
Cameron, who represents the five defendants in the trial free of charge, argued the controversial government cuts meant his legally-aided clients could not find barristers competent enough to represent them.
He said the case cut to a wider problem that there was only a finite pool of Queen's Counsel barristers and high demand for their services.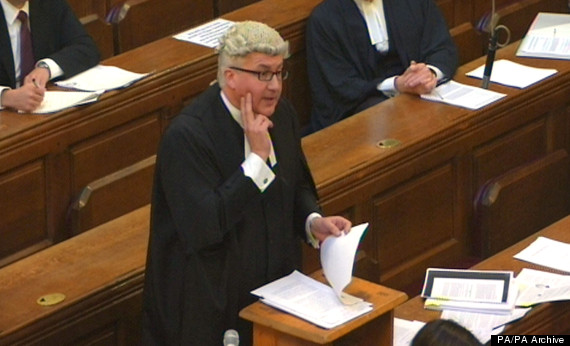 Alexander Cameron QC said his brother's government's legal aid cuts made finding competent lawyers in the case impossible
Many independent barristers refuse to work under current legal aid rates, which have been slashed by as much as 30%.
Prosecutors had insisted the case should instead be granted an adjournment until highly qualified barristers became free.
In a landmark decision passed down on Thursday, Judge Anthony Leonard QC stayed the proceedings, agreeing with Mr Cameron's argument.
Delivering his ruling at Southwark Crown Court, he said it would clog up the courts to adjourn the case to next January, adding he had no reason to think the defendants would be able to find suitably qualified barristers to represent them.
He said: "I have reminded myself that a stay should only be granted in exceptional circumstances and that in most cases an adjournment can cure what otherwise might amount to an abuse of the process of the court.
"I have taken into account that it is common ground between the parties that where the defendant is not at fault, in a case of this complexity the defendants could not receive a fair trial without advocates to represent them."
He said he had concerns that there was "no realistic prospect that in the future a suitable advocate will be available" to take up the case.
Lee Adams, who represents defendant Daniel Forsyth, praised the judge's ruling, saying it averted a potential miscarriage of justice.
He said: "This is an unprecedented decision, it is enormous. This is absolutely the right decision because it is preventing a situation where innocent men may have been convicted for lack of proper representation.
"I think justice secretary Chris Grayling needs to think about his position very carefully, otherwise he risks the effective collapse of the most serious cases."
He added: "The legal cuts are endangering the criminal justice system. This means the most serious cases won't have their day in court - the guilty will not be convicted and the innocent will not be acquitted.
"It is not good for anybody."
He added: "The best thing about today is it shows that judges are willing to step in and stop trial where they are unfair."
The prime minister's official spokesman declined to comment on the case.
The decision means that five men accused of being involved in a land banking scam will be free men - subject to any appeal by prosecutors.
Scott Crawley, Brendan Daley, Forsyth, Dale Walker and Arron Petrou were all charged with conspiracy to defraud. Forsyth was also charged with providing false information.
A further trial involving three other defendants which is linked to the case is still scheduled to take place but legal experts said it was "likely" they would launch an application to stay their case in light of today's decision.
Philip Smith, a partner at the solicitor firm Tuckers which represents defendant Dale Walker, said the ruling paved the way for other people facing criminal trial to have their case thrown out if they are not properly represented.
He said: "I have been a solicitor for 21 years and this is unprecedented. It is a very brave decision by the judge, but it is a just decision.
"I think the involvement of a silk with as high a reputation as Alex Cameron QC, who very kindly agreed to accept this case pro bono, is absolutely pivotal in persuading the judge that he could justly make this decision."
He added it was crucial that in complex criminal cases, both sides are represented by barristers with the right level of skill and expertise to ensure a fair trial.
He said the public should feel "let down" by the government that a trial has collapsed because of the protracted dispute over legal aid cuts.
And he called on ministers to see the ruling as a "wake-up call" and re-assess their cuts, which has included slashing barristers' fees in a bid to chop £220 million from the legal aid budget by 2018/19.
Many took to Twitter to discuss the ruling under the hashtag #opcotton. Solicitor and legal commentator David Allen Green described legal aid cuts as "a fraudsters' charter".
Grayling's legal aid cuts have become a "Fraudsters' Charter" as prosecutions in complex fraud cases no longer possible. #OpCotton

— Jack of Kent (@JackofKent) May 1, 2014
Mr Smith added: "It is in the interests of justice for both sides that serious and complex cases of this sort should be properly prosecuted and properly tried.
"That means with equality of arms whereby you have the best barristers on both sides. Hopefully this will be a wake-up call to the Government."
Adding: "The public should feel immensely let down and should feel appalled that this situation has been allowed to develop."
He warned that at least eight other complex criminal cases, including those relating to the libor-fixing scandal, have also failed to find barristers of sufficient expertise.
He said the fraud case was the "benchmark" case and could open the floodgates to others being stayed because of a lack of legal clout on the defence benches.
He said: "Effectively the Bar has spoken with immense solidarity - the Bar has said 'enough is enough'."
Southwark Crown Court heard that the fraud trial was a "complex and substantial" case which involved 46,030 pages of evidence and 864,000 lines of spreadsheet data.
Defence solicitors had contacted 69 barrister chambers, and contacted advocates in Northern Ireland in their attempts to find suitable representation.
It had been feared the defendants would have to resort to defending themselves - but prosecutors agreed this would have been a breach of their human rights.
This marks new territory for David Cameron, who previously did not put sibling tension on the list of problems, as others already have.