The UK is in danger of standards of nutrition regressing decades and undoing the advances made since World War Two, a coalition of 170 public health experts has warned.
Food poverty in the world's sixth largest economy should be unacceptable, and the government is doing little to solve it, the academics and practitioners from the UK Faculty of Public Health said in a letter to the Lancet, a prestigious medical health journal.
"We view the rise of food poverty as an indication of the reversal of what was a long process of improvement in food availability and affordability since World War 2," the letter said.
"Public debate about food poverty is sometimes too quick to blame the poor without understanding the pressures poorer families are under."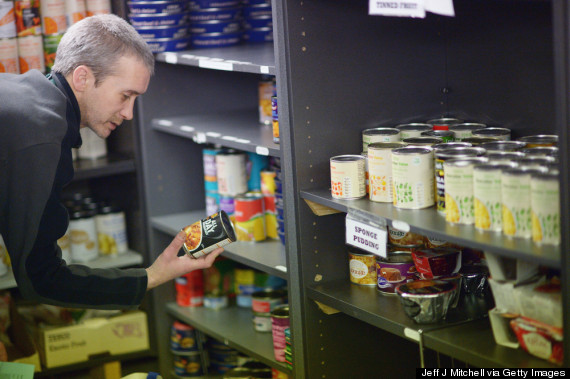 A Stuart Little volunteer holds a can as he packs food at a food bank
Food banks are a "symptom", not the cause, of the rise in people needing emergency food, the letter said, warning "the welfare system is increasingly failing to provide a robust last line of defence against hunger".
Professor Tim Lang, of City University's Centre for Food Policy, who co-drafted the letter, said Britain had effectively reached a point where obesity is the norm.
"You only have to compare the images of people on the beach now, to pictures from the 1950s. It's staggering," he told HuffPost UK. "We are, of course, not at the Dickensian levels of public health, with babies dying of preventable diseases. But inequality is reaching Dickensian levels. There is an extraordinary gap between rich and poor."
He told HuffPost UK the academics had "scored a bullseye" with the government unable to deny that its own figures cited in the letter prove growing inequality.
"All the government has been able to say is that they know it's happening but that things are getting better."
Though Lang said many neo-liberals in the Conservative party "couldn't give a toss, and think people should just work harder", he added there are many Tories who do care about poverty levels.
"They are good people and they know it has an effect on national morale," he said.
The Liberal Democrats were concerned but paralysed, Lang added, and Labour needed to step up their rhetoric.
"I hear Ed Miliband talking about the squeezed middle, but what I want to hear is him talking about the squeezed poor. That's the challenge to him."
The letter pointed out that in the UK food prices have risen by 12% in real terms since 2007, but workers have suffered a 7.6% fall in real wages.
The statistics show that it is "likely that increasing numbers of people on low wages are not earning enough money to meet their most basic nutritional needs," the letter warned.
The experts said families were "cutting back on fresh fruit and vegetables and buying cheap, sweet, fatty, salty, or processed foods that need little cooking".
"A vicious circle is set in motion, with poorer people having worse diets and contributing to the worrying rise in obesity, diabetes, and other dietary-related diseases," the letter continued.
The letter urges David Cameron to set up an independent working group to monitor nutrition and hunger in the UK and to act on the All-Party Parliamentary Group on Hunger and Food Poverty's parliamentary inquiry.
"Failure to do so will come with immense costs to individuals, families, communities, employers, the National Health Service, and government," the letter continued. "Food poverty has never been acceptable in a modern UK."
Frank Field, the Labour MP heading the parliamentary probe into food poverty told HuffPost UK the letter and its statistics "show the importance of our national inquiry".
Food poverty campaigners have welcomed the open letter. Director of the Trussell Trust foodbanks Adrian Curtis, the largest network of emergency food providers in the UK told The Huffington Post UK it was "important support".
Over 900,000 people have received three day's food from a Trussell Trust foodbank in the last year, Curtis said.
"Their statement reflects what foodbanks across the UK are seeing on the ground and provides further evidence of the scale of need," he continued. "We hope that this intervention will provoke greater action to combat UK hunger in 21st century Britain: it is an issue that cannot be ignored."
Revd Dr Keith Hebden, spokesperson for anti-poverty campaign End Hunger Fast said: "The most senior health professionals confirm our worst fears regarding this national crisis of hardship and hunger but they go even further.
"It is evident to them, as it was to the bishops, church leaders, and the thousands who campaigned and fasted with us that food bank use is only an one indicator among many: just the tip of the iceberg.
He said he hoped leaders would be "awakened from their complacency by this indicting report".
A government spokeswoman pointed at March's data from the Organisation for Economic Co-operation and Development, showing numbers of people reporting they did not have enough money to eat had fallen.
"This country is only just recovering from the worst recession of our time and we know that families were hit hard. One of the best ways to alleviate the pressures that hard-working families face is through our relentless drive to grow the economy, cut taxes and get people back into work as part of our long-term economic plan," she said in a statement.
The UK's fall in food poverty was lower than the EU average of 11.5% and the OECD average for developed countries of 13.2%, the BBC reported.