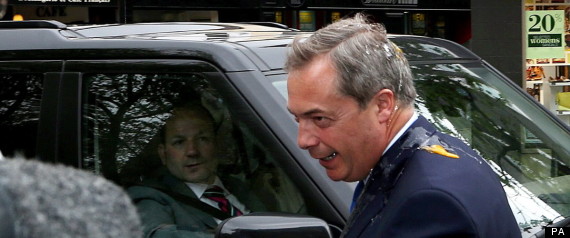 We could have devoted this week's round-up to 50 Funny Tweets About Ukip - but even we, and we're sure you, can have too much of a good thing.
Yes, Nigel Farage, his party and his egging dominate today's collection - which also includes Jeremy Clarkson's latest hilarious gaffe, the unveiling of the new Star Wars cast, the latest Tube strike, George Clooney, Susanna Reid and more. That 'more' being, of course, Ed Balls Day. And a few other things. But mostly: Ed Balls Day.
But before we take you to the 50 tweets, a special thanks to Boothby Graffoe who posted this exclusive when the terrible Nigel Farage incident happened:
Protester throws egg at Nigel Farage. Exclusive interview with devastated parents. pic.twitter.com/eO60vSflgT

— Boothby Graffoe (@boobygraffoe) May 1, 2014
And now to this week's eggcellent round-up...
SEE ALSO: Jeremy Clarkson's Statement: A Translation