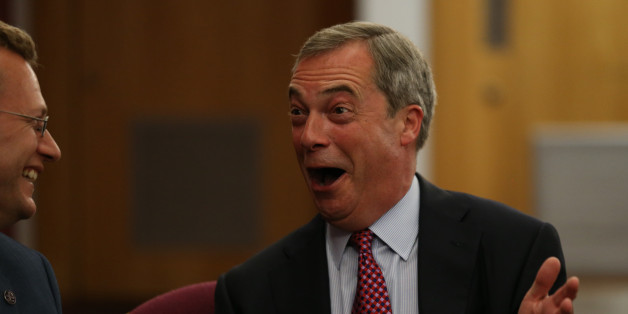 Matt Cardy via Getty Images
David Cameron could take part in a pre-election TV debate with Nigel Farage as part of a series of broadcast showdowns in the run-up to the 2015 contest, it was reported.
The prime minister is understood not to have ruled anything out before talks on the format for the debates begin in earnest in the autumn.
In recent days both Ukip leader Farage and Labour's Ed Miliband have repeated their challenge to the prime minister to agree to take part in TV debates.
The Sunday Times reported that Cameron was willing to take part in three leaders' debates - including one alongside Farage.
Under the "2-3-5" format drawn up by his aides, Cameron would hold one head-to-head debate with the Labour leader - as the other potential prime minister - a second, which would also include Liberal Democrat leader, Nick Clegg and a third with Farage and the Green party leader Natalie Bennett.
One of the debates would be held during the campaign, with the others beforehand, the newspaper reported.
Responding to the report a No 10 source said: "It is speculation on what might happen in talks that are not going to happen for several months.
"We have not ruled anything in or out, so that means people can speculate what might happen in the talks.
"But the reality is these talks are several months away."
Last month the Labour leader said the previous format of three debates between the three main party leaders over three weeks should be a "starting point" but that he was open to moves such as a less formal setting and greater voter participation in any repeat of the 2010 confrontations.
He used a Radio Times article to call for immediate negotiations, accusing his main rival of being the "single biggest obstacle" to them going ahead and suggesting the Tories were keen to deny his cash-strapped party vital publicity.
Britain's first such debates, between Cameron, Gordon Brown and Clegg, were staged on the BBC, ITV and Sky News in 2010 after prolonged negotiations between the parties and the TV companies, which resulted in very strict rules on the style of questioning and the division of time for leaders' answers.
Cameron has since complained that they "took all the life out" of the campaign amid constant speculation over whether the practice would be revived, and if so in what form.
Farage repeated his challenge to the Conservative leader in response to claims he was "chicken" for ruling out a run at Parliament in the Newark by-election.
The Ukip leader said: "Mr Cameron said ... that I was a chicken. Well, I'll tell you what Dave, why don't you come on telly and do a debate with me?"
Opinion polls suggested Farage beat Clegg in two debates ahead of this month's European elections.