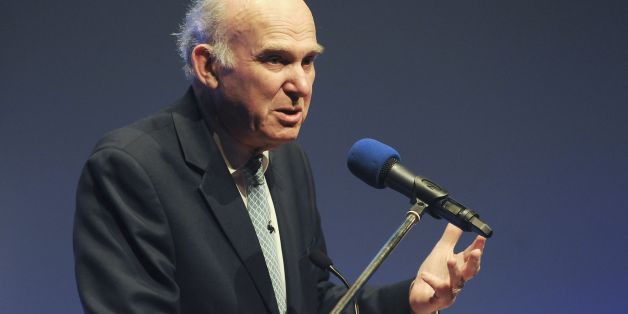 Joe Giddens/PA Archive
Vince Cable has suggested that the government could wade into the prospective takeover by US drugs giant Pfizer of its UK rival AstraZeneca, which looks set to be the biggest foreign takeover ever of a British firm.
The Liberal Democrat business secretary told MPs this afternoon that while the government was "open minded" about intervening over the planned buy out on public interest grounds.
He said that ministers were "very alive to the national interest considerations", but made clear that the bid is "ultimately a matter for shareholders" and that the government's approach was of "even-handed neutrality".
Cable's comments come amid mounting concern about the prospective takeover, as MPs signalled they would question senior Pfizer executives over its £63 billion offer for the UK-based firm, with speculation mounting that the US drugs giant could mount a hostile takeover.
Critics warned that Pfizer's promises to protect jobs at AstraZeneca might not be believable. Labour's shadow business secretary Chuka Umunna said the Viagra manufacturer's assurances to the government were "simply not worth the paper they are written on'. Meanwhile, former Labour foreign secretary Jack Straw accused ministers of being "supine" in their attitude towards Pfizer.
The government can currently intervene on mergers or takeovers where there is a national security issue, an issue of media plurality, competition concerns or if it could affect financial stability.
Cable told MPs: "One of our options as the government would be to consider using our public interest test powers - or even expanding them. This would be a serious step and not one that should be taken lightly. I am open-minded about it, but should stress that we are operating within serious European legal constraints."
Cable's remarks come after George Osborne insisted that securing British jobs is the government's "sole interest" amid calls for ministers to intervene over US pharmaceutical giant Pfizer's takeover bid for AstraZeneca.
The chancellor said he would back "any arrangement that delivers" for the UK, and accused Labour of hypocrisy in suggesting that politicians should block the move.
Unite assistant general secretary Tony Burke said: "The workforce and the unions have acted in a responsible manner and shown remarkable patience, but that is now wearing thin. Ed Miliband's sensible intervention at the weekend for a national interest test should be acted on. Neither the German or the French governments would be simply waving through a takeover on this scale.
Osborne said: "Our sole interest here is in securing good jobs in Britain, good manufacturing jobs, good science jobs.
"That's what I'm interested in and we'll support any arrangement that delivers that for Britain.
"We make no apologies for fighting for Britain's national economic interest and we'll take no lectures from the last government that virtually destroyed the British economy, and time after again when there were takeovers did nothing to protect Britain's national economic interest."
London Mayor Boris Johnson said ministers needed to ensure that Pfizer was genuinely committed to continuing research and development in the UK.
"It is of great importance to Britain so I don't think politicians can be entirely aloof from this," he told LBC radio.
"I am not taking a position against the deal necessarily but it would be very important to establish that Pfizer is genuinely committed to R&D in this country and that it won't in any way damage what is the incredible success - particularly of London and the South East - in dominating the European scene in life sciences."