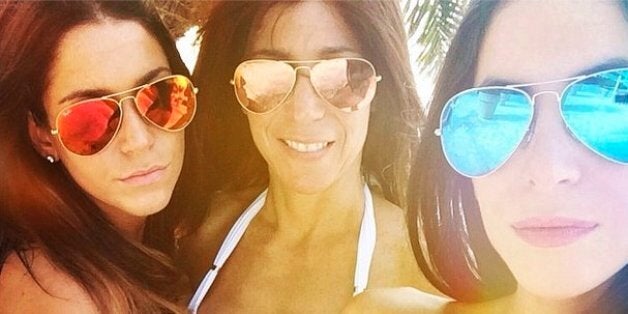 If you thought Jen Selter, the owner of the most famous bum on Instagram, had a body to die for, just you wait until you meet her mum.
For the past year, 46-year-old Jill has been working hard in the gym to develop washboard abs. And we think you'll agree when we say that all the hard work has certainly paid off.
After her daughter's derriere was catapulted to Instagram fame, Jill, who is a mother-of-two, asked 20-year-old Jen for help.
Writing for NY Post, Jen explains how she helped transform her mum's body through regular exercise and making dietary changes.
"My mom has always been pretty thin, but she was a junk food addict and her only form of exercise was the occasional tennis game," she says.
But by switching fast food for healthier options and exercising for three-to-four hours per week, Jill has the stomach many would envy - regardless of their age.
"It's not genetics. It's hard work," Jen assures.
"It takes dedication, perseverance, hard work and consistency. There is no secret pill, no special diet.
"What it comes down to is how hard you push yourself and how you overcome the mental challenge of getting yourself to the gym even when you really don't want to. Consistency leads to results."
She added: "Diet is also important. I eat every few hours to keep my metabolism running and I try to stay away from overly processed foods. Lots of lean meat, vegetables and fresh fruit. Fitness is a lifestyle.
"You must be mentally prepared to commit to it and be consistent with your health and fitness lifestyle in order to see results and as we know results don't happen overnight."