Channel's 4 broadcasting of the Muslim call to prayer during the holy month of Ramadan was the broadcaster's most-complained about programme last year.
It received 2,011 complaints about its 4Ramadan season with 1,658 specifically about the broadcast of the daily call to prayer.
A Channel 4 spokeswoman said: "We are clearly not saying that all the complaints we received were Islamophobic in nature, but simply that we were surprised by the level which were."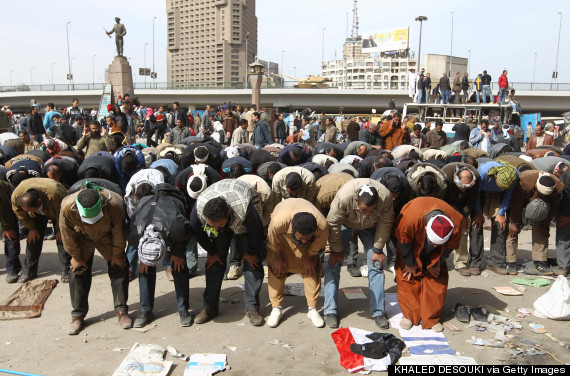 Egyptians pray in central Cairo's Tahrir Square
Writing in the broadcaster's annual report, Channel 4's head of factual Ralph Lee said: "The level of Islamophobia we encountered with the 4Ramadan season was unexpected, though much of it came from communities that were either very polarised or very un-diverse."
Lee said he personally received hundreds of emails complaining about the broadcast after he defended it in a column for Radio Times, where he said it would "act as a nationwide Tannoy system" and a provocation to viewers "in the very real sense of the word".
Channel 4 received a total of 16,835 complaints over 2013 with the second most-complained about show being Crazy About One Direction - a documentary about the boyband's most devoted fans, which attracted 1,056 complaints.
At the time of the broadcasting, a committee of MPs questioned whether the Channel had made the correct decision, with MP Angie Bray saying the decision could be seen as "patronising".
But Channel 4 chief executive David Abraham told MPs broadcasting a Muslim call to prayer does in fact fit in with the broadcaster's public service remit.
Channel 4 chairman Lord Burns said that the broadcasts had received "very little" negative reaction, adding that they were not "inflicted upon" viewers and that watching was "a matter of choice."
He said that the broadcast, at 3am, had attracted 186,000 viewers in a slot that was normally watched by around 35,000.