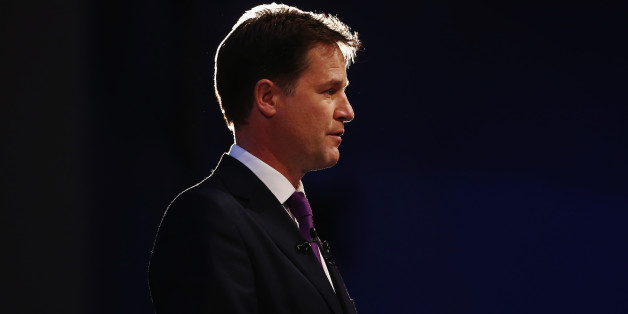 Dan Kitwood via Getty Images
Nick Clegg has dismissed calls by Britain's top policeman for tougher knife crime sentences insisting innocent people could end up in jail.
The deputy prime minister said he is "not soft on knife crime at all" and wanted to "bang people up who should be banged up" but claimed mandatory sentences would increase offending and hit the prison population.
Conservatives want to introduce an automatic prison sentence for offenders caught twice with a knife - a move backed by Sir Bernard Hogan-Howe, who said similar measures for gun offences had led to a drop in the number of young people being picked up with the weapons.
And Ed Miliband said he also wanted to see "tougher penalties" for knife crime.
The Metropolitan Police Commissioner told LBC: "For me, it's vital we send a clear message to our young people." He added: "They do hear simple messages. They have heard it about guns, I think they need to hear it about knives."
But Clegg said mandatory sentences could lead to innocent people being imprisoned or young girls coerced by gang members into carrying weapons being jailed when they were really the victims.
On his regular LBC Call Clegg show, he said: "The police, quite understandably, often say they want new powers on the statute book and often politicians and Parliament say 'hang on a minute, we don't just constantly put new offences on the statute book without considering the knock on effect on the prison population, on rates of re-offending'.
"Now Bernard Hogan-Howe, for instance, said 'well, of course, sometimes people might wander out of their home with a knife on them and not really remember and they have done it innocently'. The point is, under this arrangement that person would end up in prison because there are no extenuating circumstances."
He added: "Yes, let's be really tough on knife crime but let's be smart about how we are tough on knife crime. Let's not just simply catch headlines in a way which doesn't necessarily deal with the problem."
One caller to the show called Clegg a "lunatic" and questioned how the elderly could sleep safe in their beds at night, leaving the Liberal Democrat leader clearly exasperated.
He said he wants judges to retain sentencing flexibility and insisted that throwing more people in jail created a "revolving door" that increased offending.
Clegg said: "All my political life, I know it is difficult, I know people just want to think there is some instant solution for every single crime under the sun, but all my life I have always believed that the best way to deal with crime... it's better to be smart on crime than sound tough but actually doing things which help increase crime."
Conservative Justice Secretary Chris Grayling has called for offenders caught twice with a knife to face an automatic six-month jail term.
Grayling wants mandatory jail sentences to be introduced through an amendment to the Criminal Justice and Courts Bill, which returns to the Commons on May 12.
Lord Chief Justice Lord Thomas, the most senior judge in England and Wales, has also called for an urgent review of sentencing for youths carrying knives, saying it was a "major problem" among 12 to 14-year-olds.
Liberal Democrats have accused the Tories of seeking to exploit the death of teacher Ann Maguire in a Leeds classroom for political gain.
Ed Miliband told the BBC: "I don't agree with Nick Clegg. I think we do need tougher penalties for knife crime. Labour's been consistently arguing that this is an issue that needs to be looked at.
"We definitely do want to use the legislation to strengthen the law and we are definitely sympathetic to the issue of mandatory sentences after a second offence, after conviction for a second offence.
"We need to make sure it's done in the right way, but that's where we stand, because I think the public want to know that we are going to send a strong message to people who carry knives repeatedly that it is not acceptable."
Conservative mayor of London Boris Johnson said: "Nick Clegg is wrong. I do believe it's vital that we work to educate and rehabilitate those caught up in the culture of knife-carrying but equally it is imperative that the police and the courts are given every support to tackle the scourge of knife crime.
"That means backing this amendment, not ducking the issue. I'm surprised by the stance of the Deputy Prime Minister - an issue as important as this needs unequivocal cross-party support.
"In London we have made huge strides in combating knife crime, but we must do more. This amendment is a clear signal to those who act with such impunity that carrying a knife will not be tolerated."
David Cameron's official spokesman appeared to signal that the Prime Minister had some sympathy for an amendment to the Criminal Justice and Courts Bill tabled by backbencher Nick de Bois and backed by 39 Tory MPs, which would put the proposal for mandatory jail sentences into effect.
Asked whether the PM would encourage Tories to support the Enfield North MP's amendment, the spokesman told a regular Westminster media briefing: "With regard to that amendment, that is something the Prime Minister is going to give very detailed consideration to."
Asked whether Cameron agreed with the Deputy Prime Minister, the spokesman added: "How we do more in this area around knife crime and how we make our streets safer is something he is giving very active consideration to.
"The Prime Minister is continuing to consider what more can be done. The Prime Minister thinks that it is right that we are looking very carefully at this area. There is work under way in this area and we should let that take its course."