Steve Coogan admits that his personal happiness off-screen has been reflected in a slight change of mood in the current series of 'The Trip to Italy'.
Viewers of the second series, which finishes tonight on BBC2, will have noticed Steve Coogan's character 'Steve Coogan' in a distinctly mellow mood as he and Rob Brydon head off on a restaurant review tour of the scenic Italian coastline.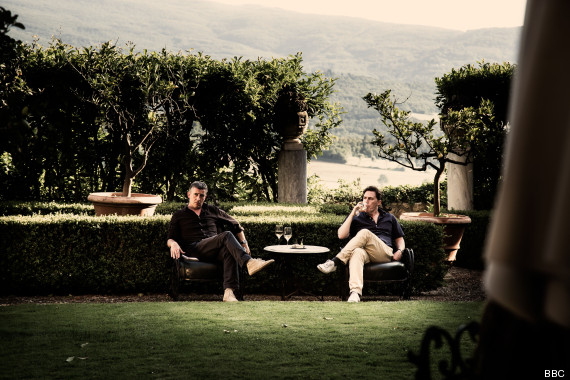 Steve Coogan with Rob Brydon in 'The Trip to Italy'
While all the competitive impersonations from the first series have continued, there have been some slight changes of attitude, as both characters survey their mid-life status from the viewpoint of an Amalfi balcony.
Happily-married Rob is seen struggling with the temptations of the flesh in the guise of an attractive tour guide, while Steve - whose off-screen personal life has garnered far more headlines than that of Rob, and in the last series dallied with a photographer during their trip to the Lake District - is, this time around, seen seeking only to strengthen the relationship with his son.
In real life, Steve actually has a daughter and, for the last couple of years, been living with his girlfriend Elle.
"In The Trip (this time) I was in a better place, and I wanted to reflect that a little bit, and make it a bit more about that," he tells me.
"Plus, we didn't want it to be the same as before, and we did talk about how we would render ourselves. For example, I started drinking again while we were shooting, and now I've stopped again. I felt I could let my hair down. Not that I'm a train wreck when I'm drinking, I just prefer myself when I'm not."
This is all part of Steve's ongoing crusade to make creative projects, both on the small and big screen, that are closer to his heart and set of values as he now sees them, typified by his recent BAFTA-winning triumph 'Philomena'.
He tells me, "There's this preconception, that people who behave well are boring, and that's not true and doesn't have to be true.
"You can be interesting and sexy and still be nice to people, they're not incompatible."
Looking back on his previous comedic triumphs with the likes of 'Alan Partridge', Steve says now, "It's tiring to never be sincere. It's tiresome and tiring, and ultimately not very satisfying.
"Acerbic wit is like chocolate. It's very enjoyable in the short term, but it doesn't really nourish you, and ultimately you have to say what you believe in, what you mean, and try to be honest and truthful, and not be preoccupied about being hip all the time."
'The Trip to Italy' finishes tonight on BBC2 at 10pm. Watch the trailer below...
'The Trip to Italy' is part of our brand new Culture of Kindness section - our Huffington Post UK page dedicated to all TV shows and films that have kindness at their core - that celebrate warmth and generosity between us, and give a voice to those we often overlook. See what other treasures we've found here...