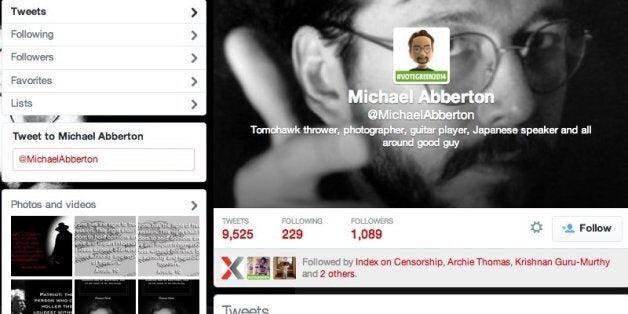 A blogger who tweeted a "fact-check" of 10 Ukip election promises might have thought his somewhat innocuous tweet might earn him a few retweets at best. Instead, it earned Michael Abberton a visit from the police.
The Huffington Post UK has learnt that the complaint was made by Cllr Peter Reeve, Ukip's local Government spokesman and national nominating officer.
Abberton was told by two Cambridgeshire police officers that they were sure he had not broken the law, but asked him to delete the tweet in any event, admitting they could not force him to do so.
The tweet in question was tongue-in-cheek poster of 10 Great Reasons To Vote Ukip, such as scrapping maternity leave and paid holiday. Abberton claims he did not even make the poster himself - merely added links to the party's own material that backed up the poster's claims.
Reeve told HuffPost UK that he had reported Green party member Abberton to the police for electoral fraud, because his post did not contain an official declaration that it was Green Party material - required by the Electoral Commission.
"Electoral fraud is a very serious issue, it tells us who made the poster, who published it, so we can sue them if necessary," Reeve said. "I didn't call the police over a tweet, I called them over electoral fraud.
"We originally got the complaint from a family member of one of our candidates in the south west, who thought it was official Ukip material. It's impersonating our leaflets, and it's misrepresenting us."
"Those views are not Ukip's views," he said, adding that the links Abberton had included were to "spurious" candidates.
When quizzed as to whether such an obviously personal tweet should have to carry such official wording, Reeve said: "This man is a active member of the Green party, he has said he is numerous time and for him to promote this leaflet without the official wording is illegal.
"The Electoral Commission is very clear that makes no difference whether it is in print or a tweet."
Reeve said Ukip were still considering suing Abberton for his tweet. "We have also informed the branch of the police which deals specifically in electoral fraud."
The officer then asked him to 'take it down' but Abberton pointed out that the image had already been retweeted many times.
"I had to explain to one of the officers what Twitter was and how it worked. They said that they couldn't force me to take it down anyway," he wrote.
The police asked Abberton not to mention the visit on Twitter because "this might appear prejudicial in light of the upcoming election and the police must appear to remain neutral. But they couldn't stop me from doing so, as I had Freedom of Speech.
"Incredulously, I said, '...but you must realise how this looks!' One shrugged, the other looked embarrassed."
Abberton then alleged he received a threatening tweet from a Ukip member, who knew the police had been to visit."
Cambridgeshire Police said in a statement to HuffPost UK: "We were called with a complaint about a message on social media at about 12.40pm on Friday.
"Inquiries were made as to whether any offences had been committed under the Representation of the People Act but none were revealed and no further action was taken."
Julian Huppert, the Lib Dem MP for Cambridge said in a statement: "I have huge concerns about this issue because Mr Abberton had the right to freely express his opinion and I cannot see what law he may have broken.
"I have taken this matter up with Cambridgeshire Police Superintendent, Vicky Skeels, Area Commander for Cambridge asking her to carry out an urgent investigation.
"I want to know why they sent two police officers to Mr Abberton's home to investigate his tweet which criticised UKIP's policies.
"And I also want her to explain under what powers they asked Mr Abberton to remove his tweet and why he should not tweet about their visit."
Green Party Leader Natalie Bennett said: "This police action is both disturbing and surprising.
"That an apparently general complaint from a political party about not liking what was said about them could have led to a police visit that many would find intimidating is an extremely serious incident that demands immediate investigation."
Popular in the Community