"Circumstances could make the decision a very good one or it could make it a very bad one," Roy Hodgson said of Ashley Cole's omission from his 23-man World Cup squad. "If [Leighton] Baines suffered an injury against Peru, it would make the selection of Shaw a very bad selection."
That is hardly a rousing send-off 32 days before England's first match against Italy in Manaus. Hodgson did, at least, bullishly add "the squad can win the World Cup. Otherwise what's the point?" However, his comments regarding Cole hinted at a lingering uncertainty over how England will approach their fifth successive World Cup finals.
Baines, at least, is assured of his starting berth, as is Joe Hart. One of Fabio Capello's fatal errors in South Africa four years ago was not just his aversion to select Hart, the best 'keeper in the Premier League that season, but keeping the tragicomic No.1, Robert Green, on tenterhooks over his selection versus the United States.
That Green's deputy was the equally calamitous David James, a custodian who has failed to prepare for momentous occasions in the past, only exacerbated England's build-up. Green gifted the US an equaliser in the opening game and England never truly recovered.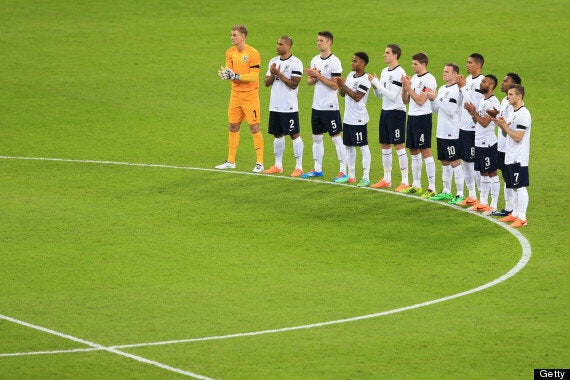 Odd one out: Cole is the only starter from the Denmark friendly not to make the World Cup squad
England's back five selects itself. Gary Cahill and Phil Jagielka have formed a decent central defensive partnership that will be tested more stringently by Mario Balotelli, Andrea Pirlo, Edinson Cavani, Luis Suárez and the like, yet the biggest concern is Glen Johnson, an asset in attack but an ass in defence. Hodgson has not selected a right-back as cover, instead preferring to rely on Chris Smalling or Phil Jones to deputise, even though both have fared rather wretchedly there for Manchester United. James Milner is an alternative, but Johnson has to start simply because he is the only out-and-out right-back in the squad.
Further forward, England's front six is slightly more complex. Steven Gerrard will be accommodated in the holding role, Wayne Rooney will spearhead the attack - flanked by Daniel Sturridge - but Hodgson needs to be bold when it comes to the other three positions.
England are not good enough to field two midfielders in their XI, and since ageing captain Gerrard is ensured of starting, Hodgson must flank the Liverpudlian with two midfielders in a 4-3-2-1 formation.
It is sensible to follow Brendan Rodgers' Liverpool blueprint when the club are represented by five of its players, and Jordan Henderson has not only excelled in the engine room, but allowed Gerrard to flourish.
Originally bracketed with Andy Carroll, Stewart Downing and Charlie Adam as the Brit pack that came to define Kenny Dalglish's risible second stint as Liverpool manager, Henderson's passing and reading of the game has improved immeasurably under Rodgers and England need to finally treasure the ball, rather than treat it like a hot potato. Capped just eight times by England, Henderson does at least have tournament experience, having cameoed at the 2012 European Championship in the quarter-final defeat to Italy.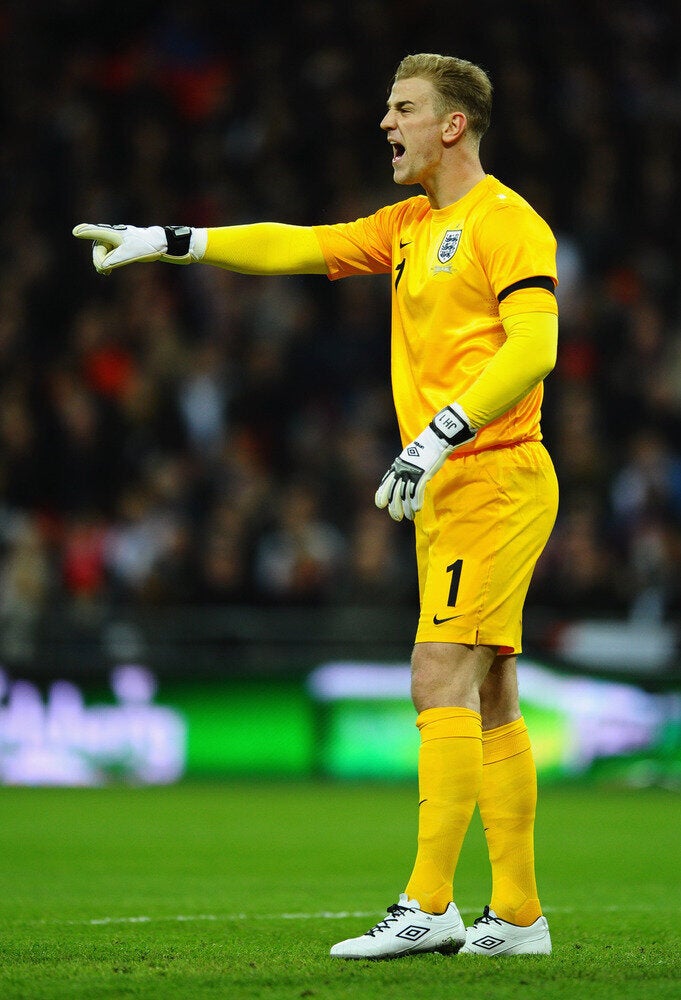 England World Cup squad
Alex Oxlade-Chamberlain has proved this year his long-term future lies in central midfield, and his vibrancy would complement the steelier Henderson. Still only 20, he too played at Euro 2012 - albeit on the wing - and has matured into a disciplined, but dexterous, figure at Arsenal. With Gerrard liable to struggle, at 34 years, in the south American humidity, and Henderson energetic, rather than electric, Oxlade-Chamberlain's pace from deep and experience on the wing offers England promptness.
Frank Lampard should not be considered and might have as much of an impact in Brazil as Stephen Warnock did in South Africa. Not only has Lampard become marginalised at Chelsea, he turns 36 in June has under-performed at two previous World Cups and is a disaster when played alongside Gerrard. Depending on his recovery from injury, Jack Wilshere could offer steel and silk, despite a poor campaign with Arsenal.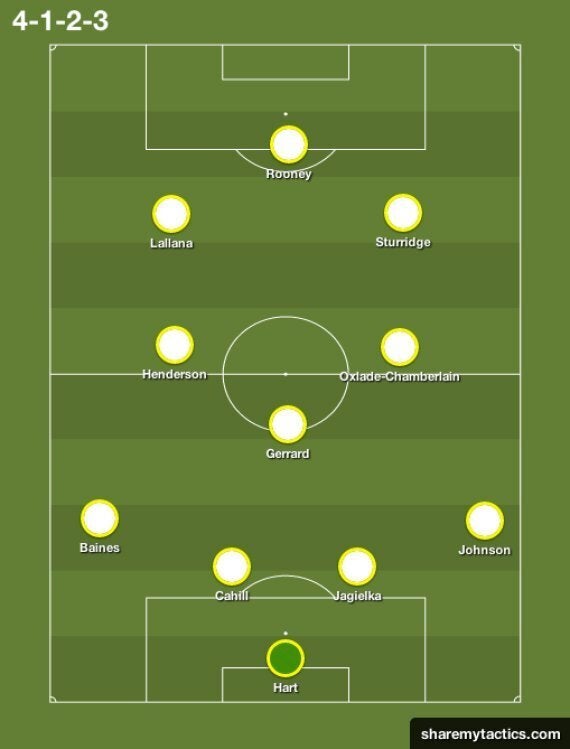 Is this how England should line up at the World Cup?
Rooney is best used as a No.9 these days. Too immobile, indisciplined and prone to wilting off the striker, his best seasons with United have come as a lone forward and Sturridge is skilful - and versatile - enough to dovetail with his de facto partner. Sturridge has, however, not performed particularly well with England this season, despite two international goals in four games, and it is imperative he and Rooney tweak their telepathy in the three friendly matches against Peru, Ecuador and Honduras.
Adam Lallana has to occupy the final berth in the side. One of England's best technical players, he can operate in a midfield three or a front three, which would allow him to switch with Oxlade-Chamberlain, if necessary. Confident on the ball and a frugal passer, he is also an underrated goal threat, having scored 10 times for Southampton this season.
Raheem Sterling is an understandable temptation for Hodgson, although his inexperience and rawness would, initially at least, be best utilised as an impact substitute. The same applies to Ross Barkley, whose surges in the latter stages of games might also be vital.
Related