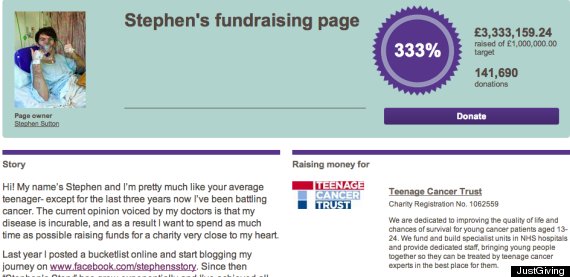 Stephen Sutton's fundraising page earlier on Wednesday
Donations have been pouring in to Stephen Sutton's fundraising page, with more than £30,000 being added to the total in an hour, after his death aged just 19 was announced.
Sutton, from Burntwood, Staffordshire, died on Wednesday after being re-admitted to hospital at the weekend with breathing difficulties and his family said his condition was rapidly deteriorating.
He had spent his last weeks raising more than £3million for the Teenage Cancer Trust charity.
Over an hour on Wednesday afternoon, 2,310 people donated £31,000 to his page, taking the total above £3.3million and the donations showed no signs of stopping.
SEE ALSO: Stephen Sutton's Final Inspirational Facebook Photo

'Give Him A State Funeral': These Stephen Sutton Tributes Are Amazing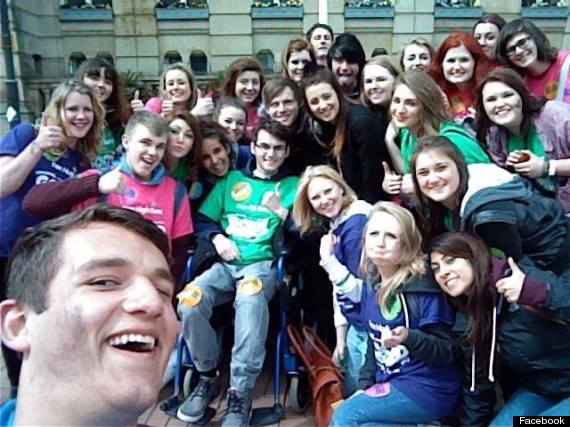 The final photo posted on Stephen Sutton's Facebook
Siobhan Dunn, chief executive of Teenage Cancer Trust which Sutton raised his money for, said: "Stephen was an exceptional young man and ambassador for Teenage Cancer Trust. He will be remembered for his incredible positivity by all who met or connected with him.
"Stephen didn't measure life in time, preferring instead to measure it by the difference someone makes. Stephen has made an enormous difference to Teenage Cancer Trust and the seven young people diagnosed with cancer every day who need our help."
Tributes poured in to the courageous teen who was first diagnosed with cancer aged 15. David Cameron, who had met Sutton and called him "inspirational" posted a tribute to Twitter.
I'm deeply saddened to hear that Stephen Sutton has died. His spirit, bravery and fundraising for cancer research were all an inspiration.

— David Cameron (@David_Cameron) May 14, 2014
Posting on the teenager's Facebook page, Stephen's mother Jane said: "My heart is bursting with pride but breaking with pain for my courageous, selfless, inspirational son who passed away peacefully in his sleep in the early hours of this morning, Wednesday 14th May.
"The ongoing support and outpouring of love for Stephen will help greatly at this difficult time, in the same way as it helped Stephen throughout his journey.
"We all know he will never be forgotten, his spirit will live on, in all that he achieved and shared with so many."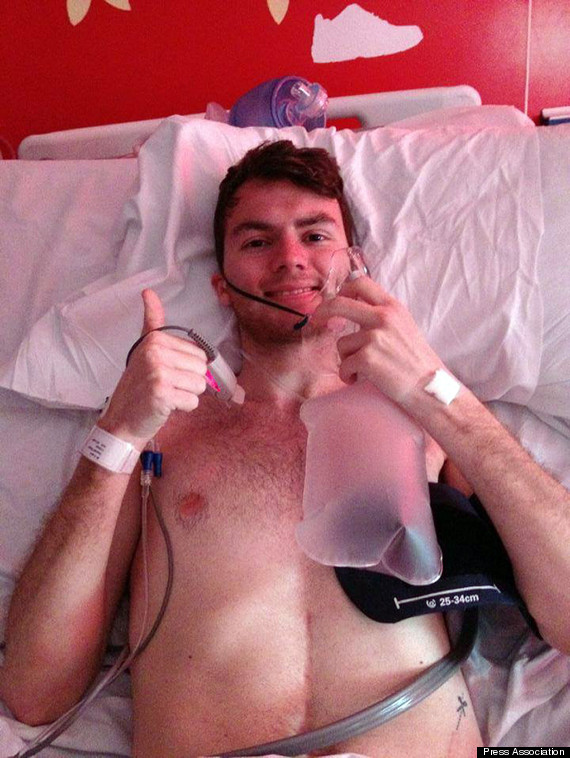 Stephen Sutton died on Wednesday
Donate to Stephen Sutton's fundraising page
Labour leader Ed Miliband also paid tribute to Sutton, praising his "bravery and determination".
Tragic news that Stephen Sutton has passed away. His bravery & determination to live life to the full was an inspiration to us all.

— Ed Miliband (@Ed_Miliband) May 14, 2014
Publicity surrounding his battle with the disease saw the teenager smash his original £10,000 fundraising target.
His fund-raising efforts have attracted support from celebrities including Simon Pegg, Russell Brand and Stephen Fry, as well as music mogul Simon Cowell.
More than 135,000 individual donations have been made on his Just Giving page with support coming from around the world.
Donations to the fundraising page, which he set up in January 2013 alongside a blog on Facebook, leaped last month after he posted a picture of himself in hospital with a "goodbye"message.
But he made what he described as a remarkable recovery - coughing up a tumour and being discharged from hospital on May 2.
He was attacked by internet trolls after his release, who claimed to feel "duped" and accused him of exaggerating the seriousness of his condition.
The teenager was diagnosed with bowel cancer when he was 15. Despite treatment, his tumours spread and he was informed his condition was incurable in December 2012.
Earlier this week, he spoke of his anger at how his cancer was misdiagnosed as constipation for six months.