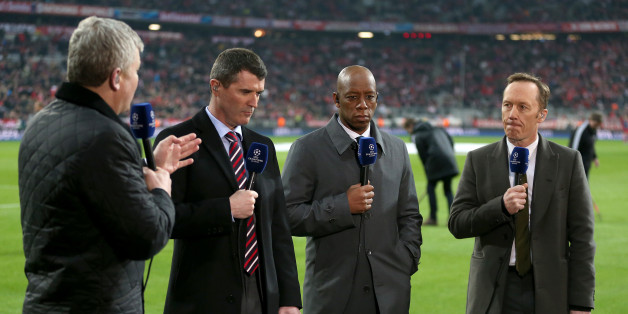 Mike Egerton/EMPICS Sport
The BBC and ITV will again broadcast the World Cup finals, with England's opening fixture against Italy in Brazil ebing televised by the BBC at 11pm on Saturday 14 June. ITV will broadcast the Three Lions' two other group matches versus Uruguay and Costa Rica.
Below is your TV guide to a feast of football from 12 June to 13 July...
GROUP A
Thursday, 12 June
Brazil vs Croatia, São Paulo, 9pm ITV
Friday, 13 June
Mexico vs Cameroon, Natal, 5pm ITV
Tuesday, 17 June
Brazil vs Mexico, Fortaleza, 8pm BBC
Wednesday, 18 June
Cameroon vs Croatia, Manaus, 11pm ITV
Monday, 23 June
Cameroon vs Brazil, Brasilia, 9pm ITV
Croatia vs Mexico, Recife, 9pm ITV
GROUP B
Friday, 13 June
Spain vs Holland, Salvador, 8pm BBC
Chile vs Australia, Cuiaba, 11pm ITV
Wednesday, 18 June
Australia vs Holland, Porto Alegre, 5pm ITV
Spain vs Chile, Rio de Janeiro, 8pm BBC
Monday, 23 June
Australia vs Spain, Curitiba, 5pm ITV
Holland vs Chile, São Paulo, 5pm ITV
GROUP C
Saturday, June 14
Colombia vs Greece, Belo Horizonte, 5pm BBC
Sunday, 15 June
Ivory Coast vs Japan, Recife, 2am ITV
Thursday, 19 June
Colombia vs Ivory Coast, Brasilia, 5pm BBC
Japan vs Greece, Natal, 11pm BBC
Tuesday, 24 June
Japan vs Colombia, Cuiaba, 9pm BBC
Greece vs Ivory Coast, Fortaleza, 9pm BBC
GROUP D
Saturday, 14 June
Uruguay vs Costa Rica, Fortaleza, 8pm ITV
England vs Italy, Manaus, 11pm BBC
Thursday, 19 June
Uruguay vs England, São Paulo, 8pm ITV
Friday, 20 June
Italy vs Costa Rica, Recife, 5pm BBC
Tuesday, 24 June
Italy vs Uruguay, Natal, 5pm ITV
Costa Rica vs England, Belo Horizonte, 5pm ITV
GROUP E
Sunday, 15 June
Switzerland vs Ecuador, Brasilia, 5pm ITV
France vs Honduras, Porto Alegre, 8pm BBC
Friday, 20 June
Switzerland vs France, Salvador, 8pm ITV
Honduras vs Ecuador, Curitiba, 11pm ITV
Wednesday, 24 June
Honduras vs Switzerland, Manaus, 9pm BBC
Ecuador vs France, Rio de Janeiro, 9pm BBC
GROUP F
Sunday, 15 June
Argentina vs Bosnia-Herzegovina, Rio de Janeiro, 11pm BBC
Monday, 16 June
Iran vs Nigeria, Curitiba, 8pm BBC
Saturday, 21 June
Argentina vs Iran, Belo Horizonte, 5pm ITV
Nigeria vs Bosnia-Herzegovina, Cuiaba, 11pm BBC
Wednesday, 25 June
Nigeria vs Argentina, Poro Alegre, 5pm ITV
Bosnia-Herzegovina vs Iran, Salvador, 5pm ITV
GROUP G
Monday, 16 June
Germany vs Portugal, Salvador, 5pm ITV
Ghana vs USA, Natal, 11pm BBC
Saturday, 21 June
Germany vs Ghana, Fortaleza, 8pm BBC
USA vs Portugal, Manaus, 11pm BBC
Thursday, 26 June
USA vs Germany, Recife, 5pm BBC
Portugal vs Ghana, Brasilia, 5pm BBC
GROUP H
Tuesday, 17 June
Belgium vs Algeria, Belo Horizonte, 5pm ITV
Russia vs South Korea, Cuiaba, 11pm BBC
Sunday, 22 June
Belgium vs Russia, Rio de Janeiro, 5pm BBC
South Korea vs Algeria, Porto Alegre, 8pm ITV
Thursday, 26 June
South Korea vs Belgium, São Paulo, 9pm ITV
Algeria vs Russia, Curitiba, 9pm ITV
ROUND OF 16
Saturday, 28 June
MATCH 1: Winners in Group A vs Runners-Up in Group B, Belo Horizonte, 5pm
MATCH 2: Winners in Group C vs Runners-Up in Group D, Rio de Janeiro, 9pm
Sunday, 29 June
MATCH 3: Winners in Group B vs Runners-Up in Group A, Fortaleza, 5pm
MATCH 4: Winners in Group D vs Runners-Up in Group C, Recife, 9pm
Monday, 30 June
MATCH 5: Winners in Group E vs Runners-Up in Group F, Brasilia, 5pm
MATCH 6: Winners in Group G vs Runners-Up in Group H, Porto Alegre, 9pm
Tuesday, 1 July
MATCH 7: Winners in Group F vs Runners-Up in Group E, 5pm, São Paulo
MATCH 8: Winners in Group H vs Runners-Up in Group G, 9pm, Salvador
QUARTER-FINALS
Friday, 4 July
QF 1: Winners in Match 5 vs Winners in Match 6, Rio de Janeiro, 5pm
QF 2: Winners in Match 1 vs Winners in Match 2, Fortaleza, 9pm
Saturday, 5 July
QF 3: Winners in Match 7 vs Winners in Match 8, Brasilia, 5pm
QF 4: Winners in Match 3 vs Winners in Match 4, Salvador, 9pm
SEMI-FINALS
Tuesday, 8 July
SF 1: Winners in QF 1 vs Winners in QF 3, Belo Horizonte, 9pm
Wednesday, 9 July
SF 2: Winners in QF 2 vs Winners in QF 4, São Paulo, 9pm
3RD PLACE PLAY-OFF
Saturday, 12 July
Losers in SF 1 vs Losers in SF 2, Brasilia, 9pm
FINAL
Sunday, 13 July
Winners in SF 1 vs Winners in SF 2, 8pm, Rio de Janeiro