After a long morning on the campaign trail, the whole country knows that Farage likes a ale.
Until now, he's found no shortage of pubs willing to serve the Ukip leader a publicity pint. Until he attempted to have a swift one in Belfast's famous Victorian Crown Bar.
But as the band of merry eurosceptics headed to the bar for a quick one at lunchtime, Ukip was told that filming would not be allowed in the National Trust-owned pub.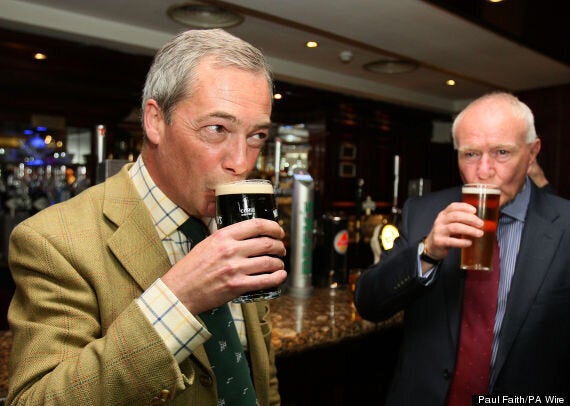 Ukip leader Nigel Farage joins Ukip MLA David McNarry for a pint at the Europa Hotel in Belfast
The pub is a popular tourist destination, and the interior was recreated for director Carol Reed's classic black and white 1940s thriller, Odd Man Out, about an IRA murderer hiding out in the bar.
Of course, with filming not allowed, the whole point of the exercise would be missed. The canvassers and Farage were forced out of the door and down to the bar at the hotel Europa.