 Margaret Thatcher's premiership was all about making capitalism popular, as Brits were encouraged to flock to buy shares in institutions like British Gas through the "Tell Sid" publicity campaign.
Now official figures from the Office for National Statistics show that the richest 10% of Britons own nearly half (44%) of household wealth. Over 2010-2012, the richest 20% have 105 times as much wealth as the poorest 20%.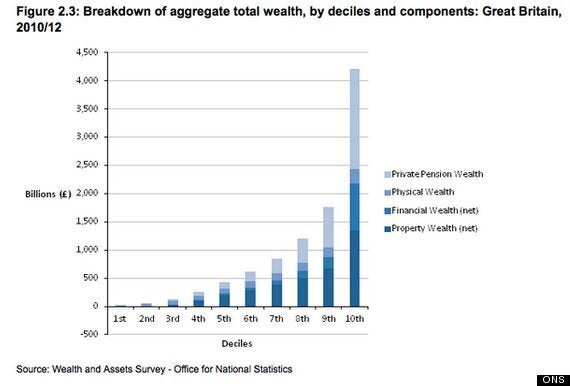 Independent policy analyst Declan Gaffney told HuffPostUK: "One of the ideas associated with Thatcherism was that a more and more people would benefit from a deregulated model of capitalism through wider capital ownership ('popular capitalism').
"That really hasn't happened: the distribution of net financial wealth is almost as unequal as it could possibly be, and pension wealth is also extraordinarily concentrated. So this aspect of the Thatcherite programme failed.
"In this respect, Thatcherism as an ideology deserves to be seen as a form of 'utopian capitalism.''
Rachael Orr, Head of UK Poverty Programme at the charity Oxfam, added: "This is another shocking chapter in a tale of two Britains, further evidence of increasing inequality at a time when five rich families have the same wealth as 12 million people."
Popular in the Community