Mourners have paid an emotional farewell to the teacher who was stabbed to death in her classroom, describing her "passion" for her job.
Hundreds of mourners gathered at the mass to remember Ann Maguire, 61, who died after she was attacked as she taught a Spanish lesson at Corpus Christi Catholic College, in Leeds, last month.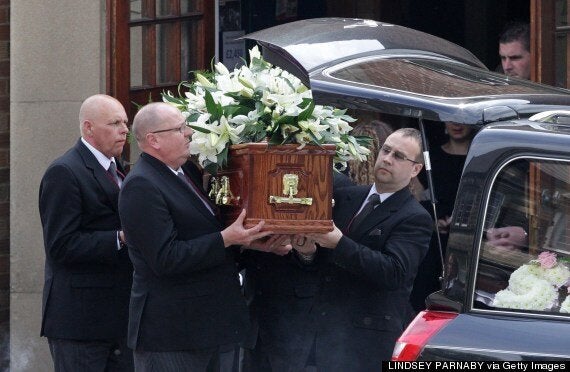 Her husband Don, 62, who earlier arrived with their two daughters and nephews whom the teacher treated as her own sons following the death of her sister, gave a eulogy in which he spoke of his late wife's dedication to her students.
"Ann loved teaching," he said. "A dream as a very young child, an ambition in teenage years, a fulfilling reality for 40 years. Spanish was her subject, the pace and rhythm of modern language teaching suited her so well.
"Being head of fifth form, a great passion, because this is where the full range of her personal qualities and abilities were fully exercised. But, in true humility, she always stressed that she learned so much from others."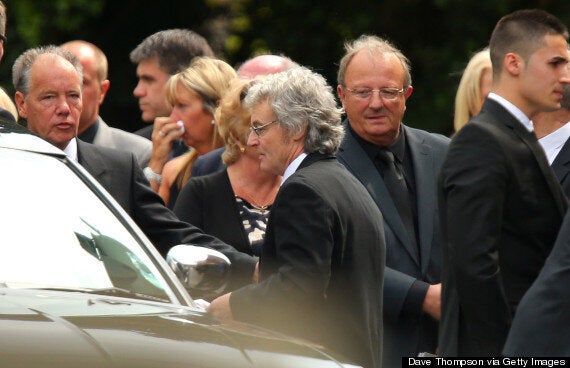 Don Maguire, centre, leaves following the funeral of his wife Ann Maguire
The funeral service at the Catholic Church of the Immaculate Heart of Mary began with a procession of gifts brought up to symbolise the much-loved teacher's life accompanied by Wind Beneath My Wings being played on the piano.
A number of photographs of Mrs Maguire including those of her as a child and young woman decorated the order of service and a message at the back read: "Ann's family would like to express their deep gratitude for everyone's expressions of love, sympathy and support."
Mr Maguire, his daughters Emma and Kerry and nephews Daniel and Andrew, earlier arrived in two black cars at the doors of the red-brick church, where they were met by clergy.
A stream of mourners arrived ahead of them, including Corpus Christi head Steve Mort who arrived with three children from the school dressed in uniform.
Her coffin was received at the church yesterday evening when family members attended a private mass.
It was carried out of the church following the hour and 45 minute service.
White carnations on either side of the coffin spelled out "mummy" and "sister".
Mr Maguire and his family hugged some of the 300 mourners as they followed the pallbearers out of the church.
Mrs Maguire had taught at the school for more than 40 years and was due to retire in September.
Tributes to the much-loved teacher have poured in from across the world. Thousands of them were placed on the railings outside Corpus Christi, stretching 100 yards from the school gates to the church next door.
Many of the messages were from current and former pupils but others were placed by complete strangers who wanted to register their sadness.
STORY CONTINUES BELOW SLIDESHOW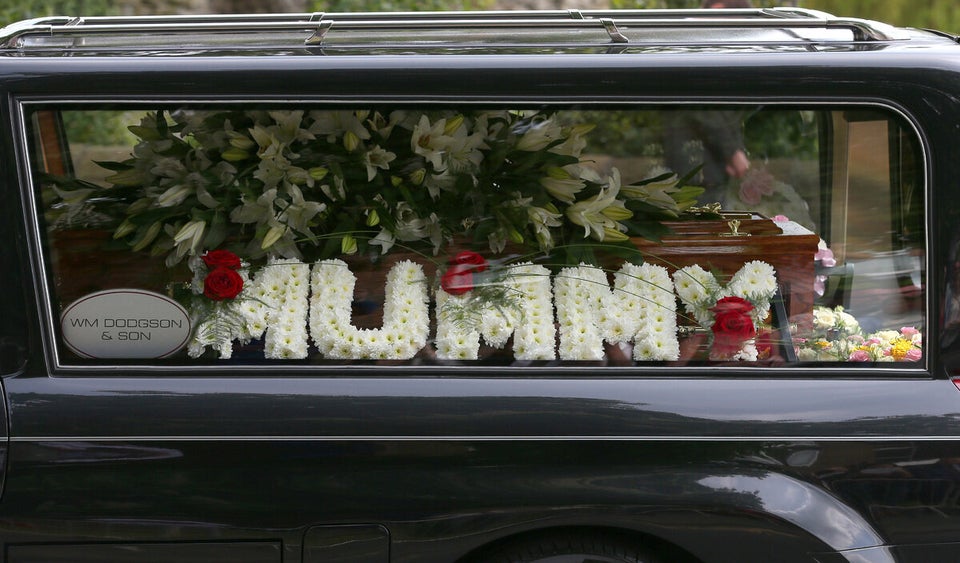 Ann Maguire Funeral
The sentiments were pinned to hundreds of bunches of flowers and other mementos including teddies, school books, football shirts, school ties and guitars.
The Ann Maguire Educational Fund has been set up in the teacher's name "to provide bursaries and funding for the enhancement and personal development of young people under 18 years old through music, drama, language and dance".