Hindu nationalists have swept to power in India, with a man once banned from Britain for his extreme views set to be prime minister of 1.25 billion people.
The Bharatiya Janata Party, led by the controversial Narendra Modi, is on course for an absolute majority, polls indicate.
Modi, set to be India's next prime minister, was until 2012 banned from entering the UK, because of his perceived extreme views, and questions over his involvement in the 2002 sectarian riots in Gujarat, where up to 2,000 people from the area's Muslim minority community were murdered. A supporter of Hindu nationalist Bharatiya Janata Party holds up a cutout of the party's prime ministerial candidate Narendra Modi
The BJP will take over the rule of the nation, governed by the Congress Party for ten years.
Modi has shown little remorse over the Gujurat incident, telling Reuters it had been similar to accidentally running over a puppy.
The story continues below...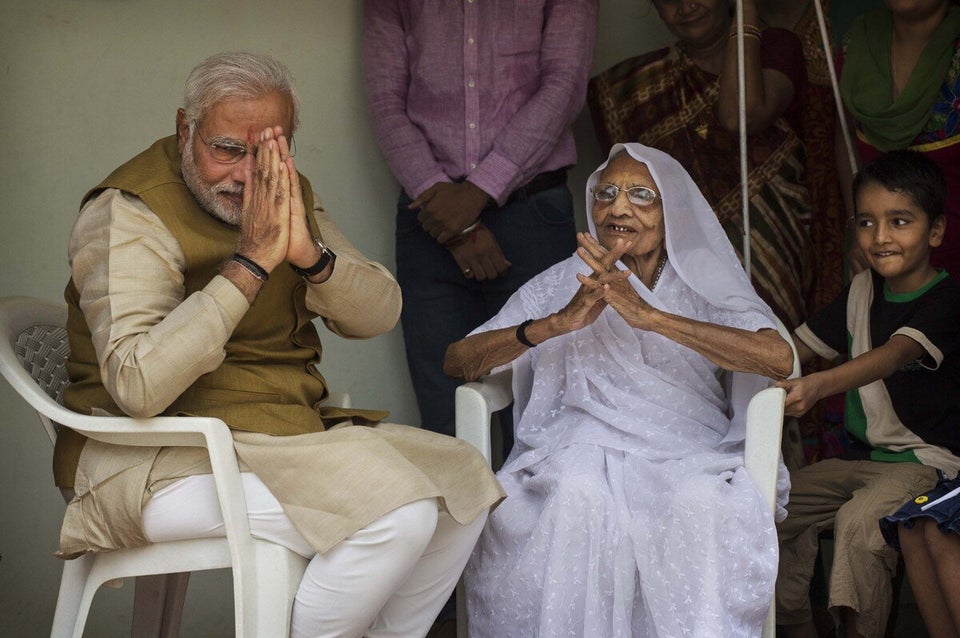 BJP's Narendra Modi Becomes India's Prime Minister
Britain lifted the 63-year-old's decade-long entry ban in October 2012, with a senior government source admitting to the Telegraph that the prospect of Modi becoming India's next prime minister had been a consideration in lifting the boycott. Officials said "active engagement" would improve British trade prospects.
In March 2013, the EU also ended its boycott of Modi. The US, which has previously denied Modi a visa, suggested it would not do so again, with US Assistant Secretary of State Nisha Biswal telling reporters in March last year that "a democratically elected leader of India will be a welcome partner."
The UK's entry ban was not lifted without controversy. An invitation for Modi to visit Britain, from Labour Friends of India chair Barry Gardiner MP, was met with a online petition against his entry of almost 12,000 signatures. Modi said he had no immediate plans to accept the invitation.
Shailesh Vara, a Conservative MP who also invited Modi to speak said he was aware the leader was "controversial" but pointed out there have been three inquiries into the incident, and none of them have found anything against him."
Foreign Secretary William Hague sent his congratulations to Modi, and said he "looks forward to forging an even closer partnership with India in the months ahead."
Modi's victory has been emphatic, winning a majority not seen in India since 1984.
His conservative and patriotic platform is also anti-corruption, promising to heal the inequality gap between India's rich and its desperately poor, a gap that has showed no sign of closing in the last decade.
With a strong appeal to India's younger generation, Modi promised fast economic growth by creating 10 million jobs and investing in power, road and rail projects.
His modesty has also earned him plaudits, he is a vegetarian celibate, with just three members of staff, who has no powerful family dynasty behind him nor a private education, flash cars or designer clothes. He is from humble origins, a grocer's son from Gujarat, the region where he has been chief minister.
Modi went to greet his elderly mother as his victory was announced, touching her feet as a sign of deference. She then marked his forehead with traditional vermilion and fed him sweetmeats.
Senior Congress leader and spokesman Rajeev Shukla told reporters: "We accept defeat. We are ready to sit in the opposition."
The Congress party had put its faith in Rahul Gandhi, the great grandson of India's independence leader, but conceded defeat even before the first seats were confirmed.
More than a million people have been involved in the vote count across the country, with the turnout of 815 million eligible voters, more than 130 million higher than in 2009.
Dr Sagarika Dutt, a South Asia specialist at Nottingham Trent University, said the victory has come at a critical time with economic growth needing to translate into social progress
"In keeping with a nationalist agenda, the BJP will strive to ensure that India plays a greater role in world affairs," he said.
"This agenda purports to be reformist, but is essentially about Hindu nationalism and the glorification of the Indian nation. But as Hindu nationalism and the Indian nation goes global, the Indian economy could get a boost."